Zero Waste Youth Convergence, USA
A gathering of environmentally-focused youth in the Bay Area
By Sophia Chan
On Sunday, March 17, 2013, San Francisco City College hosted the first Zero Waste Youth Convergence (ZWYC) in the United States, bringing over two hundred youths ranging from high school students to young professionals together for eight hours of "redefining waste."
First, what is "Zero Waste"? Ruth Abbe, one of the world's leading analysts in zero waste puts it this way, "Nature has created a perfect system of producing no waste that cannot be consumed or used by something else. Essentially, it means no burying and no burning any waste, ultimately utilizing the four R's: Reduce, Reuse, Recycle, and Rot."
The idea for Zero Waste Youth Convergences started in Brazil when nineteen-year-old Jessica Sabatini sat in for her father's place at the Zero Waste Week in Japan and found that most of the people attending the conference were mostly elderly CEOs or business managers.
At the ZWYC, Sabatini stated the problem, "The older generations are tackling this problem of zero waste, but fifty years down the road, the younger generations have to deal with this problem in the future, so why not educate our youth about this problem so they can attack it in the future?" This idea soon became the first ZWYC 2010 in Brazil. Later, the idea traveled to Sweden and the Philippines; and this year, it came to the United States.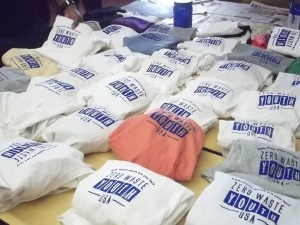 Organized by young professionals Kimberly Lam of Republic Services and Emmanuel Nava of the SF Department of the Environment (SFDE), the Zero Waste Youth Convergence put together over twenty-five speakers lecturing on topics such as Creative Reuse, Product Design & Packaging, Community & Social Justice, and Entrepreneurial Start-Ups and Innovations.
The conference also featured two keynote speakers. Beth Terry talked in the morning
about her "five-year-long-and-still-going-strong" plastic-free life with her challenges, advantages, and successes, even setting up a table during lunch to sell her plastic-free book, Plastic-Free: How I Kicked the Plastic Habit and How You Can Too. In the afternoon, Kevin Danaher of Friends of the SFDE, a non-profit branch of the SFDE, spoke out about the climate change that "is happening regardless of whether or not politicians want to believe it."
In addition to these speakers, the ZWYC invited several members of the Zero Waste world community to participate in an International Dialogue, including Jessica Sabatini herself from Brazil, Froilan Grate from the Philippines, and Angel Escobar from Mexico. While Sabatini talked of the origins of the ZWYC in Brazil, Grate described the Philippines quickly approaching zero waste with its national ban of incineration of waste and directly educating children about zero waste in the schools. Escobar then talked of the unfortunate circumstances of Mexico's lack of zero waste awareness, problems seen clearly with the very weak trash system and garbage overflowing in the landfills. The dialogue opened the audience's eyes to the origins, the potential, and the need for zero waste.
True to its philosophy, the ZWYC of its entirety consumed zero waste. The committee set up 100% organic lunch with local-grown foods, reusable plates and forks, and compostable napkins. A college student set up his power-generating bike in the quad to produce music for the audience. The planning committee asked the participants to bring their own t-shirts and screen-printed the logo right onto the shirts at the convergence.
While the conference provided a great deal of speakers and inspiration, the audience also got to interact with each other, exchanging ideas and contact information for future projects.