High School Relationships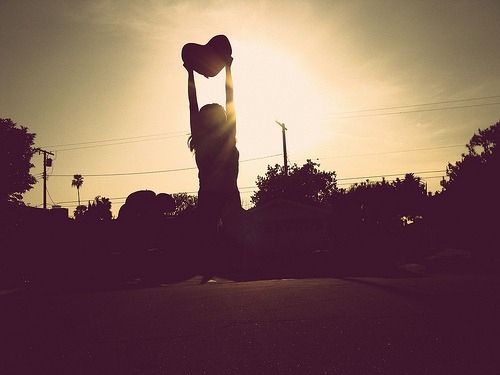 Young love is messy, but worth it
By Iris Lee 
I'll admit it: love bewilders me. My parents, though quite open minded, do warn me about the messy dating world. "Save it for college," they say, like the traditional Asian-American parents they are. "Even better, after college."
Thankfully, they leave the ultimate choice to me, and I couldn't appreciate the chance more.  Although I understand a parent's concerns with a child's age, academics, and maturity, it's best as an individual choice.
School builds the foundation the rest of our life is supposed to stand on with basic subjects like math and English—relationships should just as easily fall into its own subject category in high school. It's a perfect time to learn: during this developmental period, students are old enough to tackle this complex subject, but haven't fully solidified their opinions yet. They are teetering on the peak of immaturity and maturity, waiting for the right moment to pull them back from the edge or to shove them forward.  While nurturing a high school relationship is a risky move, it's also one of the best ways to pull a teenager safely away from immaturity. The bond not only gives individuals insight and better prepares them for their social future, but when approached with sincere purposes, also instills lifelong moral values. Parents often try to drill these very values into their children, and while it sometimes works, there is nothing more effective than hearing it from an equal.
I see these high school relationships as opportunities to grow and prosper. When two people meet and fall in love, they begin to weave a beautiful tale of two and embark on a journey together. These two people venture into a sort of wilderness, exposed to a new world they never would have opened up if it weren't for the dating game.
She'll struggle trying to understand his beliefs, he'll pound the desk with frustration when she doesn't get it, and sometimes, the two might give up and paint a solemn "the end" in their final pages. It happens, and someday, after realizing their mistakes, they will flip back through their ancient fairytales and learn from the relationship. But if the two make a choice to persevere and work through the kinks together, they will both learn so much about themselves and store the memories for the future.
Young love is valuable. Rather than sheltering high school students from reality, we should let them freely explore this path of love and hate with common sense and respectful morals. It's much more than just flirts and games—it's another way to get ahead in life by empathizing with another individual and discovering yourself along the way.
Indulge a little. If you have honest intentions, take the risk. You may just emerge with clearer vision.