Mr.Pham's Firebending Class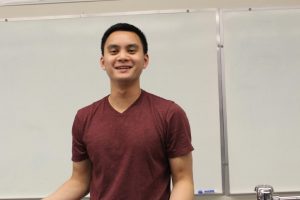 By Kelsey Wong
Before Mr.Pham became a science teacher at Irvington, he had spent the majority of his time teaching the art of firebending. "It's just a side job now." reiterated Mr.Pham, who for the last 10 years has owned and managed a class dedicated to teaching people how to control their firebending power.
A decade ago on a stormy night, 16-year-old Mr.Pham had been driving when the wheel suddenly displaced itself, causing him to crash into a fuel tank just as an electrical pole fell onto his car. The electrical pole electrocuted the young teen while flames from his car's exploding fuel tank engulfed his body into flames.
"While I burning and getting electrocuted, lightning struck my body and I fell into a reverie. I dreamt that I was mirroring the movement of dragons." explained Mr. Pham. "Luckily, the next day I was alive and on a hospital bed. When I stretched my arm, fire came from it."
Mr.Pham mastered his firebending power and soon found himself teaching others his skill. He then established a firebending class in the back of a liquor store off Main Street in Union City.
"I offer the opportunity to rule mankind." elucidated Mr.Pham. "Think about it! You get to shoot fire and blow stuff up. Who doesn't want to learn that?"
Mr.Pham's firebending class is open to all regardless of experience level. Classes cost $49 per week (gi included, a $150 value) and are held Monday to Friday, 6PM to 9PM. He's currently offering a 50% discount for the first three months for anyone who brings a friend or family member along. (Safety down payment not included.)
"I do plan to expand my business nationwide," said Mr.Pham. "Unfortunately it hasn't been going anywhere in the last 10 years. And business hasn't been doing so well due to the rain."