We the Tech People
Mrs. Cook-Kallio's computer support team
By Enya Kuo | News Editor
Mrs. Cook-Kallio loves it when computers crash.
"It just gives me something to do other than teach," said the history and government teacher, who also has a side job fixing computers and offering at-home or in-class technical services to Irvington staff and Pleasanton residents.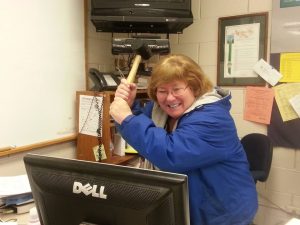 Mrs. Cook-Kallio majored in Computer Science at MIT and knows multiple programming languages such as Python and C++. Before she started teaching, she worked at the Genius Bar in the Stoneridge Mall Apple store.
"It followed me around and I just couldn't ignore it," Mrs. Cook-Kallio said, describing how she discovered this hidden passion for technology.
Mrs. Cook-Kallio specializes in fixing Macs and other Apple products. She also mentors We the Tech People, a team of high school students interning with her to learn computer support and real-life applications of computer science. We the Tech People also travels to Washington D.C. every year to attend an electronics conference.
Known as the "Computer Whisperer" to those specialized in this field, Mrs. Cook-Kallio has her special, secret methods of fixing computers.
"I threaten them. I whisper to them and tell them what I will do if they don't behave," she said, revealing her signature repair method. "And because they're virtual intelligence, they believe me."
Mrs. Cook-Kallio stated that her customers include adults and students alike, and that her most regular customer is Mr. Kumar, who, according to the number of times he has requested her technical help, knows nothing about computers.