Club Spotlight: Inked Calligraphy Club
New club practices traditional Chinese and English art forms
Enya Kuo | News Editor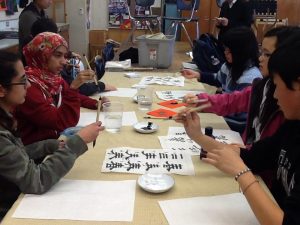 An Inked Calligraphy Club meeting usually sounds like crinkling paper, tapping brushes, and lunchtime chatter. The new club, formed this year by junior Raya Kuo, practices traditional Chinese and English calligraphy as well as Chinese painting. Members meet to discuss, write, and draw different manuscript and art styles.
"It's something I found to be very fun and exciting, and I wanted to share this joy of calligraphy," said president Raya Kuo, who has been practicing Chinese calligraphy for a couple of years now. "The study of how you can use lines and curves to create beautiful letters is always going to be relevant."
Junior Sharman Tan directs the English calligraphy portion of the club while junior Camille Chen teaches Chinese painting.
"I started doing Chinese painting in third grade," said Chen, "They're valuable art forms, so we keep practicing them so they don't die out in the future."
The club so far has made English calligraphy cards for children's hospitals and showcased Chinese spring festival scrolls at Multicultural Week. Raya Kuo is optimistic about the future of the club. "I hope we can develop a new generation of leaders who are passionate about calligraphy and dedicated to the club," she said.