Coloring for a Cause
Interact members volunteer at Run or Dye fundraiser in San Jose
Arya Sureshbabu | News Apprentice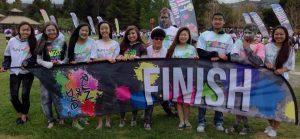 Armed with plastic bags and gloves, 30 Irvington students arrived at San Jose's Lake Cunningham Bike Park on March 29 to help out at a Run or Dye marathon in a joint service event with Mission San Jose Interact. As volunteers, students threw colored powder on runners who sped past, shouted words of encouragement as participants approached the finish line, and cleaned up the area at the end of the affair.
Interact Activities Co-Coordinator Jane Tran, a junior, believed that working with Mission's team for this service event was a good move. "We noticed the opportunity to allow our members to bond and mingle, so we publicized it as a joint event," she stated. "It's great to see IHS Interact members make friends with people outside of our club."
The marathon was organized to raise money for ViviendasLeón, a nonprofit that provides aid to rural areas in Nicaragua and fosters a travel education program, which encourages United States students to forge cultural ties with underprivileged communities.
Many of the volunteers found the experience itself to be worthwhile and enjoyable. "It was amazing to see so many giving people coming to this event on a Saturday morning," said junior Ruchi Sheth, who attended the event as a volunteer. "The colors, music, and finale festival added excitement to this exhilarating experience."