Behind the Woods
As we settle into our seats, the Valhalla lights dim, and we enter an entirely different world. But what we are seeing is the final product. What we don't see are the students, teachers, and other dedicated individuals working behind-the-scenes and onstage to bring the entire production together. The preparation behind sets, costumes, lighting, and sound helped to pull the audience "Into the Woods" as curtains rose during opening night, March 13.
Set Design and Production
Members of Stagecraft and others in the drama department put in more that 20 hours per week to build the set and scenery, creating extended platforms and complex, moving structures.
"The master calendar for putting on a full length production is actually kind of intense," said Mr. Dilorenzo, the director of the theater department. "After deciding the cast, we worked every day after school from 3:30-6:30 and every Saturday from 9-5 from the end of winter break. Organization is key when it comes to putting on a production of this caliber."
Stagecraft teacher Beth Zeigler took charge of every project, making sure that the construction was executed well and that techs backstage changed the set fluidly. For "Into the Woods" specifically, students constructed a tower, the interior of a home, a forest of trees, and other pieces using materials such as wood, cloth, and chicken wire.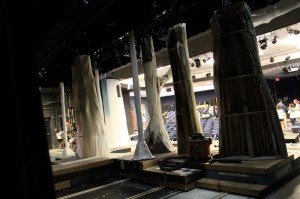 Costume and Makeup Design
Therapist by day and seamstress by night, Liz Whitaker, the head of costume and makeup design, researched styles of dark fantasy-inspired clothing to create complementary designs. She and a dedicated design team worked late hours to complete the entire cast's costumes.
"My take on this show – kind of my own personal design element – is that you'll look at a character, take for example the Snow White in our show, and recognize, 'Oh! That's Snow White,'" said Liz Whitaker. "But I'll use patterned fabric for her costume. Her skirt has a pattern on it. Her top has a pattern on it. But the iconic Disney image of her does not. Everyone's costumes in the show has some type of pattern, whether it be stripes or flowers or paisley. That's kind of my signature on it."
The makeup for "Into the Woods" consisted of many facial prosthetics that proved time-consuming to apply. After rehearsals, actors practiced putting these prosthetics on so that the application could be completed in a timely manner. Throughout the entire process, changes were always being made as the designers considered input from actors.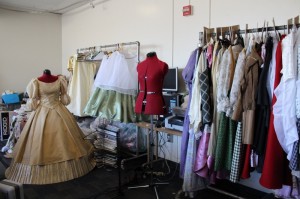 Stage Cues, Lights, and Sound
Both lighting and sound are crucial in creating ambience and atmosphere during shows. Mr. Willard and students working in Stagecraft collaborate to organize and string together effective sequences of sound effects and lighting.
"We first look through the script to see the certain points where we need effects. Like if Cinderella is talking to some birds, we'll grab some bird sound effects," explained sound director Julian Chan, a junior. "Then we'll use a program called QLab to make the sounds more accessible. Every time you press the spacebar, it'll play the effect from a set playlist."
As communication on stage remains crucial, actors and techs go through the play one cue at a time over the course of several days. During cue-to-cue, participants rehearse at a slower pace than usual, running through positions on stage and making revisions as needed. While actors onstage rehearse,  Mr. Dilorenzo stops the flow of acting every few lines to coordinate lighting, sound and visual cues, and the positions of scenery pieces.
In spite of the stress of months of preparation and tech week, Mr. Dilorenzo takes pride in the work that everyone has put into this theatrical production.
"I can easily say it is the best ICT show I have directed since I've arrived at Irvington. The students really understand it and care for the words. The talent is well balanced and exceptional," remarked Mr. Dilorenzo. "The job that I have is a difficult one. I am director, producer, auditorium tech, publicity, and theater teacher all put into one, but ultimately we do it for the love of theater."