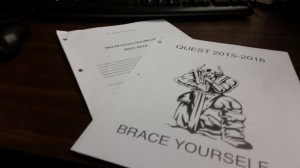 By Sahil Saxena and Sarvesh Mayilvahanan | Staff Writers
The Irvington benchmark projects kicked off in late September and early October according to schedule, but with a few changes to the curriculum this year.
Change project was slightly adjusted to make sure every student contributes to the group. A new individual writing component will be added, according to Mr. Pearce, the Change project director. This new assignment will help students stay on track and be prepared for the research report and presentation.
"We want to make sure that students are progressing in terms of their writing skills [and] also make sure they are progressing as far as their knowledge of their topic," he said.
Meanwhile, sophomores kicked off the World Issues Project (WIP), the benchmark project in which sophomores research global issues, on Sept. 25. Mr. Vucurevich, the WIP coordinator, said that a few tweaks were made to the project to clarify some assignments that were previously hard to understand.
"The biggest change," he said, "is the issues that are assigned have been refined to be things that are easier for a tenth grader to research."
For example, previous years' topics were vague and too difficult for students to look into related sources and information. He hopes this will eradicate some of the problems that students have had in the past with those old topics.
QUEST also started recently on Oct. 2 for seniors. Many large changes were made last year, but according to Mr. Phillips, the QUEST coordinator, most of them did not work as intended and were reverted to their old forms.
"There was one [assignment] where you develop questions, but not really answer them. Most teachers said it did not really work out for them." Phillips said. "We pretty much just got rid of that assignment."
The benchmark projects are underway, so get ready, and be prepared for a long year ahead.