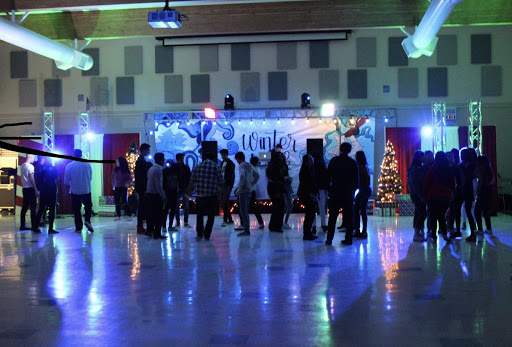 Emily Liu
On Feb. 6, ASG announced that Sadies, or "The City That Never Sleeps," will be postponed until further notice due to a multitude of unexpected factors, such as low ticket sales, miscommunication with the designated DJ, and Work to Rule. Despite publicizing for a month leading up to the event and catering to student survey responses, the quota of 150 tickets was not reached and ASG withheld from confirming the event with the DJ.
"We think that the better decision was to ultimately move towards creating a more successful dance in the future rather than pushing towards this mediocre dance," said ASG member and Sadies Planning Lead Arnav Kamra (11).
Kamra discovered that Work to Rule not only decreased ticket sales, but also interfered with the planning and execution of the event as teachers were needed as chaperones and advisors. The Viking Vendor was open only two times a week, limiting the ticket sales time frame. Although ASG Advisor Ryan Willer was allowed to help within school hours, he could not help organize on weekends as he had done previously.
"We usually have a workday independent of school hours to create the decorations for the dance, but we couldn't because Willer was not allowed to be there," said Kamra. "He only has select hours because he has to pick between violating Work to Rule by helping ASG and standing behind the teachers to put up a united front."
This year, ASG has implemented various expanded publicity efforts to ensure every event has optimal attendance. In fact, the student government releases regular newsletters and updates the ASG website to reflect upcoming school events. Every event requires outreach via a minimum of four major platforms: Schoolloop, announcements, social media, and on-campus publicity, such as posters and the Clubs Bulletin.
"We've reached the amount of people we want to reach, but right now our issue isn't with publicity—it's about grabbing the attention of people at our school," said Kamra.
This inexplicable lack of correlation between increased ASG efforts and sub-par dance attendance has been the subject of ASG's class discussion. As an effort to bridge this gap, ASG has continued hosting public forums and student reflection surveys on FiveStar and Schoolloop. In the past, student feedback as shown interest in more activities and better food at dances, so ASG marketed such aspects while publicizing Winter Wonderland as a winterfest and dance. However, neither Sadies nor Winter Wonderland has been met with as much success as Homecoming, which may have been influenced by the increased school spirit in the beginning of the year.
Initially, Sadies was not publicized as a semi-formal dance, so most of the Irvington community only knew it as "The City That Never Sleeps." The fliers were updated after two weeks to reflect the fact that the two dances were the same, but the confusion among the student body remained. By rebranding Sadies as a Spring Formal and postponing it to late May, ASG hopes to provide underclassmen a formal dance in lieu of prom.
"Overall, we're just looking towards finding that middle ground to figure out what the student body wants and what ASG can deliver," said Kamra.