ST. Louis Stress Survey Stresses Reform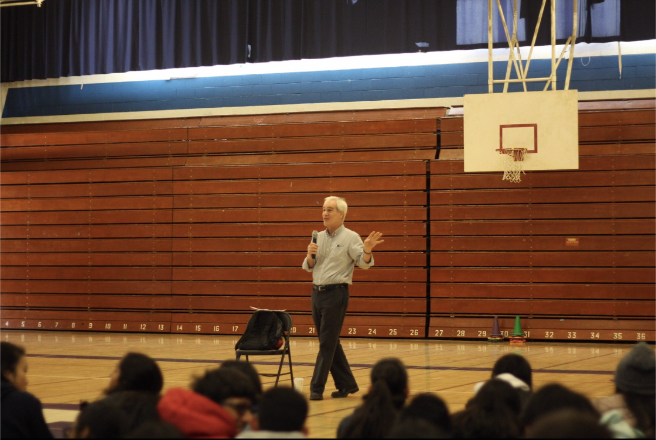 Megan Dhingra and Emily Liu, Staff Writers
March 19, 2019
During Flex advisory on February 28th and 29th in the gym, Dr. Stuart Slavin, pediatrician and professor at St. Louis University School of Medicine, spoke to Irvington High School about the results of the recent schoolwide stress survey. The survey asks questions about personal demographics and identity, pressure, behavior, feelings of anxiety or helplessness and attitudes toward self. The questions pertaining to stress ranged from academic-based pressure to homelife stress. Students were asked to rank the level of stress they experienced from each one. According to the survey, 61 percent of students identify with moderate to severe symptoms of depression and 85 percent of students identify with moderate to severe levels of anxiety.
In late 2015, Slavin conducted a similar survey at Irvington amidst AP testing and presented the results at the start of the following school year. After this survey was conducted, Vicki Abeles, director of the film Race to Nowhere, which recently screened at Irvington High School, wrote an editorial titled Is the Drive for Success Making Our Children Sick? For the New York Times. A New York Times article also used Irvington students as an example of the increasing and alarmingly high stress rates and prevalence of mental illness among all adolescents and high schoolers in America, especially in the Silicon Valley. The purpose of the last and more recent stress surveys was to gather accurate material to implement more effective tools in assisting student stress.
"What sets Irvington apart in a nation of unhealthy schools is that educators, parents and students there have chosen to start making a change." Abeles wrote.
According to information provided on the survey's Google Form, the purpose of the 2018 stress survey was  "to be able to institute possible changes that will help decrease stressors and/or help students better cope with stressors." Results of the survey will also be part of a research study being conducted by Dr. Slavin.
"From the study we did primarily and from having a lot of conversations with high school students, I think its academic pressure, the stress of trying to get into the best college possible and the pressure that students put on themselves," said Slavin. "So for most kids, it's mostly school related stress that seems to be the biggest problem."
Dr. Slavin's presentation focused on the results of the survey. Students seemed to have mixed opinions on the effectiveness of his speech.
"[Dr. Slavin] gave a much deeper insight on the topic," said Divyank Shah (10). "We got tips and strategies to better handle our stress. I think an important tip was learning to balance personal and school work. I don't think he can permanently change a teacher's decision [to give less homework], but he can influence them. But also it's the responsibility of the student since they know what they got themselves into."
Other students had a different take on the situation, and instead believed that the presentation was not as helpful as they expected.
"[Dr. Slavin] was just stating obvious facts about how the school was overworking us and how we're all stressed and going through things, but he didn't propose anything that would effectively help us," said Susruthi Singamsetty (10). "He needs to take more action in order to convince [teachers to give less homework]."
Regarding what the school will do with the results of the survey, Principal Melsby says, "Right now, we're just starting the teacher conversation. I don't think it's going to be useful if I or the administrators are like, 'give less homework.' It's more about working with teachers and saying, 'ok how can we utilize the time more effectively.' If we are giving homework, is it beneficial? We have to give [teachers] the opportunity to analyze their own course and make adjustments. It's going to be slow and it takes a while."
"Ideally, I hope we can convince teachers that it is a better practice anyway to assign less homework," said Slavin.
In regards to when there may be some positive results of all this effort, Slavin says, "I think that's going to be a discussion with the administration to try to figure out what can be done at the school level and what can be done at the district level. My hope is that there will be changes in place for the coming school year."