Boy's Basketball Back-to-Back Champions at Paul Spates Tournament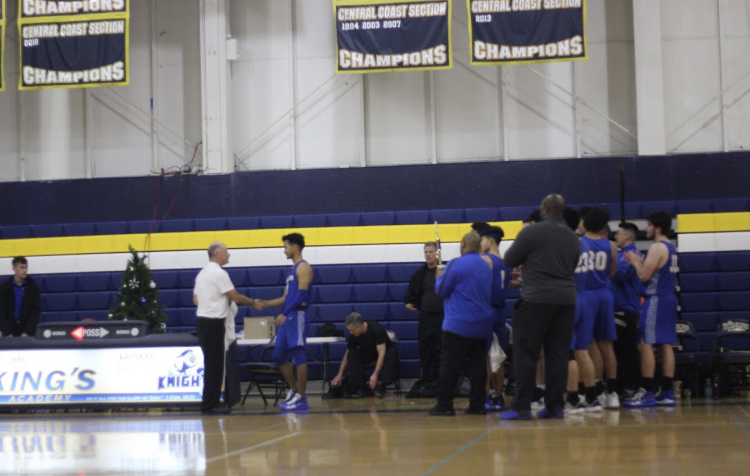 On December 7, the Irvington boy's varsity basketball team competed against Gilroy in the championship game at the Paul Spates tournament at The King's Academy in Sunnyvale. Irvington had played against Wilcox and Burlingame, winning 68-66 and 45-40, respectively. In the third and final game, the Vikings won the tournament, beating Gilroy with a score of 56-49.
"I was kind of worried, because we did go into the game short-handed," said Musa Quddus (12), one of the three captains of the team, along with Kaushal Bobba (12) and Michael Zhu (12), "but everyone who did play at the game was capable of supporting the team with their own skillset."
In the first quarter, Gilroy was able to make a number of baskets in succession, giving them the lead. After a few minutes, however, Irvington was able to score multiple goals. This, in combination with preventing Gilroy from making any further goals, reduced the difference in the scores for the two teams. By the end of the first quarter, the score was Gilroy 12-11 Irvington. "It was a slower paced-game than we are used to," said co-captain Bobba, "but I wasn't too worried because I know we had the ability to bring the score back up."
In the second quarter, a layup by Taylor Stone Amandi (12) put Irvington in the lead. However, both sides were able to make numerous goals, keeping the score neck and neck with Irvington having the upper hand. Several well-timed baskets by Wesley Burns (10) and Kaushal Bobba (12) helped increase Irvington's lead. However, both teams were very closely matched, due to their suffocating defense and good ball movement.
In the third quarter, Irvington and Gilroy remained neck-and-neck, with Irvington having a slight lead. They were able to maintain a small lead over the opposing team throughout the remaining two quarters. By the mid-third quarter, the score was 25-29, before the opposing team reduced the difference in the scores to three points before entering the fourth and final quarter.
Going into the final quarter, Irvington was four points ahead of Gilroy, the score being 34-30. By the end of the quarter, both teams scored numerous goals, raising the score to 56-49, in Irvington's favor. "We've been doing really well so far this season," said Musa Quddus when asked about his goals for the team. "It would be really great if we could make it to playoffs." The Irvington basketball team's record is now 5-0. Their next game is the Surf n Slam San Diego tournament.
Caption for the picture that won't upload for some reason: After their two successive wins at the Paul Spates tournament, Kaushal Bobba of the Irvington boy's basketball team was named MVP of the match.