ASG Changes Prom Dresscode to Hazmat Suits
Attention all juniors and seniors! In light of recent events related to the COVID-19 situation that is so rapidly spreading across the world, Irvington ASG has issued a school-wide statement regarding the long-awaited upperclassmen prom. In order to be granted entry into the venue, which is the Exploratorium, all student attendees and their guests must adhere to the new dress code, which states that a hazmat suit must be worn at all times during the event.
Though many students say respond in an unfavorable manner to this new announcement, keep in mind that it is a necessary precaution that must be taken in order to ensure the safety of everyone and allow prom to actually take place on May 23rd. And let's be honest; we all saw this coming. Each prom attendee is required to purchase a hazmat suit of their liking. Irvington PTSA is also offering a few rental suits for those who are unable to afford the hefty $200 price tag. Contact IHS PTSA on Facebook for more details on the HazMat rentals. 
Now, girls, you may be wondering how on earth you will be able to make a HazMat suit look #prom2020worthy. Well, the Voice staff has taken it upon them to compile a complete Corona Prom Apparel guide for you!
First comes the suits itself. HazMat offers a plethora of different levels of protection, thickness, sizes, and colors so that we can spice it up at prom. There are thee different levels of suit protection: A, B, and C. Level A comes in an attractive neon green color, perfect for those who want to stand out from amongst the crowd. Being the most protective of them all, not only can this suit protect you from the coronavirus, but it can also protect you from sweaty boys who are dancing in the mosh pit! Level B is a little more mellow, in burnt orange color, and perfect for those want a bodycon style dress. Level C, being the lease protective, is apt for those who want to go for that mature, senior look. Accessories can include toilet paper as a shawl (it do be getting a little chilly in San Fran tho), hand sanitizer for lotion, Clorox for makeup, and to top off the look, Lysol spray in a lemon scent as a perfume!

About the Writer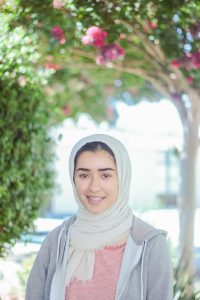 Sameeha Salman, Staff-writer
Sameeha (12) is a staff writer this year for the Irvington Voice. She joined the Voice to get all the juicy school gossip and write about it. Her hobbies include film photography, binge watching
Grey's Anatomy
, and going to cafes with her friends.