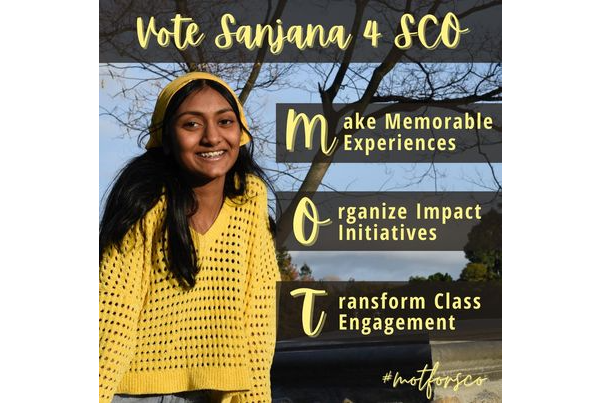 Candidate Sanjana Moturi
"My goal is to create lasting memories, utilize my platform to create a positive impact on our community, and increase our class's overall engagement in events."
---
For those in a hurry:
Sanjana Moturi is a candidate running for Senior Class Officer and focusing her campaign on ENGAGEMENT within the class of 2022, in both virtual and in-person environments.
She wants to make benchbuilding not only something that is a preparatory week for Homecoming, but also an experience for the class to interact and build connections with each other.
She wants to implement more events such as carnivals, study sessions, and events that serve the community.
She will focus on consistent fundraising to ensure that the class of 2022 has the best and most memorable prom as well as the best year possible.
---
Tanmay: Why are you the best candidate for class officer?
Sanjana: I have a lot of experience as a junior class officer this year and understand the logistical aspects behind organizing events, engaging the class. I enjoyed doing spirited events before my candidacy this year, too. I've always been an active member of student government and all of the exciting fun events that they planned.
T: What is one way that you're going to gain input from the class and reach people in a much larger demographic instead of a small bubble?
S: This year, we've been doing a lot more one-on-one with people that are in the junior class council, but also outside of the junior class council. A much more expansive way to get input from the class is just doing surveys and posting frequently on the Facebook group, where there's a lot of different demographics within the class that are active on there.
T: What do you want to get done as a class officer. And what will you do differently to get it done?
S: The main thing I really want to do is create a memorable experience for the seniors. There's a lot more freedom in a non-virtual environment. We'll have a more engaging bench. The entire setup this year was all online and we didn't get a chance to have the traditional benches, but I want to put a bigger focus on the bench. And because there's been a really long gap between the social interactions of a lot of people, I want to revamp the bench so that it's not just about creating props and prepping for homecoming week, but also about the interaction between individuals and building on those connections.
T: Do you believe the junior class, in general, has unity? What plans do you have to improve unity?
S: There are a lot of people that are interested in engagement with the class. The biggest reason why unity is lacking is that we're in a virtual environment. But once we go back to an in-person environment, that will be much easier to integrate a lot of new activities to engage the class and increase unity. Even if we are still in the virtual environment, there's still a lot of new initiatives that we can implement. As a junior class officer this year, I've asked myself, "What are some activities that people are interested in or incentives that people are interested in?" It will pave a path for me to redesign virtual events to be more consecutive.
T: What ideas do you have for homecoming?
S: The way it works is that there's a lead of spirit days and activities that we usually have during lunch. But I want to also integrate activities after school or a bigger event itself. If you remember, a couple of years ago, we had Viking Aloha night, which was the beginning of the year, and a carnival where you would go to each place to get stamps and stickers, and there was a range of different activities. Implementing a similar activity or carnival type, where there's a lot of interaction, social engagement, and activity, would be ideal.
T: What are some things that you've picked upon or learned this year that are going to help you improve your process as a class officer next year?
S: The biggest thing is trying to reach different demographics of the class and getting their input. Beforehand, we got a lot of input from our class council and had members talk to their contacts and get information that way. It was only recently until I had more one-on-ones with other people and asked them what they think about class council this year and the engagements and what's kind of holding them back from coming to class events.
T: Do you have any plans for organizing class dances and getting the junior class to participate in them?
S: This year, hopefully, we have a very hype video coming up for our class dances. That's still something that's continuing this year, despite it being a virtual environment, and it will be just as engaging but also allow a lot of individuals to be a part of it or partake in the event too. And for next year, hopefully, we'll have it in-person. And this way we can have the class dances at school events or we could also have it at the sleepover.
T: How are you going to encourage or promote general school spirit amongst your class?
S: This was part of the one-on-one interactions that I've had with the class of '22. If you are partaking in any class engagement activities, you either want to be part of the sphere or you're part of the class council. But outside of that, for individuals that aren't really interested in class engagement activities, there needs to be some incentive or motivation for them to go. My goal next year is to find that motivation and implement that so it doesn't feel like they're being forced to go, but it's more like they actually want to experience the fun and engagement there. And especially because it's senior year, there's a lot of traditions and memories that you can create there.
T: So related to the class council, how are you planning to recruit students?
S: We'll be using a similar process this year. The way we recruited members this year is with a blind application process. We crossed out their names, read the applications, graded them individually, and had a discussion period, and brought in members that way. We also took into account diversity in terms of people who have never been in class council before or have a lot of ideas. This is a group of 50 students that are representing 200 plus kids. This year, we had a 27% increase in representation.
T: How are you going to organize and manage this large group of students, that's going to be in the class council?
S: Same processes this year. We'll either have a point system or a strike system, depending on what is preferred by the class this year. Currently, we use a point system, where for every activity that you do on every event or every referral that you do, you get an X amount of points. For each evaluation period, you have to have a minimum of 40 points to pass it to stay within the class council.
T: How are you going to delegate tasks to people and ensure that these people know what they're doing?
S: I don't want to be the person that is doing all of the leadership or be the only one delegating tasks and giving work. What we did this year was have commission heads where, there would be a leader for each commission, and they have the opportunity to work with their subcommittee and go finish tasks. I want to be more of a facilitator and help create a platform where new ideas can come in.
T: How are you going to push to increase school spirit within the class council itself
S: One big thing as the motivator is the point system itself. Staying in class council means that you have to meet a certain expectation. Again, you are a group of 30 to 50 kids that are representing 200 plus kids. If you yourself aren't showing class spirit, what makes you think everyone else that's looking up to class council will engage in that spirit? So essentially, enforcing a strong system and bylaws to make sure that people within CC are abiding by them and maintaining performance.
T: Moving on to bench building, which is one of the most critical events of our year. How are you going to organize a bench building for next year?
S: I had a lot of plans for the junior year to have bench buildings. I'll give two versions. If we are still in the virtual learning environment, we will have a bigger focus on bench building, similar to what we attempted this year. We had the bench kits, where you get a certain prop and a list of instructions and all of the materials that you need to create that prop. Our first bench kit was for roads. We'll have a lot more bench kits created so that props can be made. We can still have an online fun bench building process with Zoom calls, watching movies, and create your prop that way. If we are in-person, then that would be a lot more fun. We can have a big kick-off and a lot of bonding. Again, there is a bigger focus on class engagement and social interaction than it is to actually build the props.
T: Considering both virtual and in-person, are there any improvements or you know, modifications you can make from previous years into next year?
S: For a virtual environment, we're definitely probably gonna have to focus on smaller props or easy-to-make props. Creating a kit is beneficial here because we're able to give explicit directions and provide all the materials that are needed to create the props. For an in-person environment, we'd focus on the bigger structures towards the beginning. As we trickle down to homecoming season, we're only going to be left with smaller props, so we can have more time to actually engage in class spirit and the events without stressing about finishing all of the props.
T: There tends to not be a whole lot of big class events after homecoming. Do you have any plans for events for your class throughout the entire year?
S: It took me a while to understand why engagement rates decrease later on, or why the events are slowing down. The primary reason is that there's a lot of academic work that students have. And there's a lot of ASG events, but to ensure that there's consistent class engagement, there do need to be activities outside too. An idea that I had was either study sessions to increase engagement. Even if we are so busy with academic work, just have your study sessions where we can meet up and vibe to the music or work together. Or we could have a similar event to Verses Week; dedicate an entire week to class engagement in spirit events and fun activities.
T: Do you have any ideas for class bonding events?
S: One idea we had, at one of our benches at the end of the year, as we went to a park and all of us had a Water Balloon Fight, which was really fun. Again, that's an in-person activity, but there are a lot of in-person bonding ideas that we can do. Ideally, we'll get a lot more of the class coming. We can start playing games in person that way. If we are sticking to a Zoom setting, maybe an online movie or breakout room activities or an escape room that we did this year, which is really fun for a lot of people.
T: As for spirit week, what are some ideas you have to really gain participation, besides just publishing on social media with flyers? Do you have any other ideas to boost participation?
S: With spirit week, the biggest thing is promoting the activity of engaging in events and dressing up. One thing that we did during freshman year was royal dress-up day. We noticed that a lot of people in the advisory didn't have royal crowns, so all of us started making paper crowns on the spot, and we sorted it out to a lot of people. That was an easy way to engage the class and even though it was within 10 to 15 minutes, everyone was creating paper crowns and putting them on themselves and sharing them with other people, and texting their friends. It doesn't only have to be posting pictures to increase engagement, it's the act of creating something.
T: What plans do you have for prom? Do you foresee a combined prom with juniors next year?
S: If we do get a prom, it has to be something that's memorable. My goal for prom is to find a venue that is favorable to the rest of the class. We've been having fundraising activities going on, but definitely optimizing the class's choice on finding an optimal venue that's in the price range, and prioritizing the establishment of it. Even though we are in a hybrid learning environment, I'll do everything in my power to enforce that there is a problem. So even if you're in a hybrid environment, I'll make sure that we're following the safety regulations. Having a combined prom, especially budget-wise, is definitely something up for consideration.
T: How are you gonna raise money for prom?
S: We'll have to focus a lot on fundraising activities, whether that's a simple restaurant fundraiser or boba fundraiser. It's not about being super unique about the fundraising activities, but having really consistent publicity efforts and honing down on planning the fundraiser. Even if it's as simple as selling boba, it does create a lot of profit if we publicize it enough.
T: Is there a specific way you will make the senior year the most memorable it can be?
S: If it's staying in a virtual environment, a lot of people are disincentivized. Regardless of how much you hype up an event, or regardless of how much effort you put into an event, people are just disincentivized to go to an event because of the online setting. It takes away from the moment. I want to make sure that whatever event we're doing has the same significance if it was in-person. If it's a virtual event, I'll put in two times or three times more effort to make that experience still viable to seniors, and make sure that we can still have that memorable moment. We have a lot of events for homecoming this year that will reflect that and based on the feedback from homecoming this year, we can implement something similar to that next year.
T: Are there any closing remarks you want to make on this entirely on your entire campaign?
S: For the readers that are reading The Voice, first of all, thank you so much for taking the time out of your day to read this. When you are voting for your candidate next year, I want to make sure that you guys are voting for someone that you think is best representing you. I want you to vote for someone who best represents your vision for a memorable senior year. And also, in general, if you want increased transparency and communication amongst everyone, then vote for me. And I will try my best to make sure you know, we can implement all of those.