Homecoming Court Candidate: Sanjana Moturi
A fun fact about me is that I wanted to be an actress when I was younger, and auditioned for Disney sitcoms such as "Jessie", and even Mindy Kaling's "Never Have I Ever." I was a pretty spontaneous kid, which still carries on today since running for homecoming court was mostly a light-hearted, and spontaneous decision. It is an honor to be nominated by Irvington students for court, and be considered a representation of their interests.
You can always find me on campus keeping myself busy with various events, and activities. I like to involve myself in club activities, and school spirit days as they unite our campus, and are an opportunity to interact with new students. At the moment, I am deca president, and I work with a chapter of 200+ individuals, preparing them for competitive events. I am also an active class council member, so I love attending ASG spirit weeks and flex events.
The memories I cherish most from highschool are the rallies because it's the one place where all the grade levels can come together. Whether it's the welcome rally, or the blacklight rally, there are ample opportunities to interact with other classes through engaging games, and shared chants. Getting to experience in person rallies, and other cultural events like Dil Se and Ritmo, have undoubtedly made freshmen year my favorite. In hindsight, I also met my closest friends through clubs such as DECA, Debate, and FBLA that year.
Irvington has become my second family, whether it's creating memories at events, working with my club advisor, or networking with other students. Being surrounded by so many individuals who have similar immigrant stories as me has left me with a sense of belonging, and community. Although it's quite normalized, being an immigrant is especially difficult, which is why I respect and admire my dad the most. Coming to a new country, starting from the ground up, and building a future for my brother, dog, and I, means so much, so anything I do is to make him proud.
It is bewildering to think that there are only a few months left of school, but I'm looking forward to making the most out of all our events, such as homecoming, prom, and club conferences. If I could go back in time and impart advice to freshman self, I would say to not stress about figuring everything out. Everyone is going through similar situations, and there is no perfect formula for how to navigate high school. In the end, it's important to do what makes you happy, and become involved in clubs or activities that genuinely pique your interests.
About the Contributor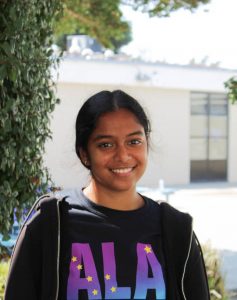 Riya Parekh, Staff Writer
Riya (12) is excited to be a first year staff writer for the Voice. She joined journalism to interview diverse people and eat good food on workdays. In her free time, Riya enjoys badgering her family members, eating Taco Bell, and spending time in her backyard.