Girls Tennis loses 0-10 Against Mission San Jose
On Tuesday, Oct. 5th, 2021, girls tennis played a home game against Mission San Jose. The game resulted in a 0-10 overall loss for Irvington High School
The girls won 2 sets of varsity singles out of the 21 total sets of the games. One of them is from set 1 of Sunny Vempati's (11) game against Siran Wang, the other is from set 2 of Carolina Xue's (11) game against Anushri Polamuri. Carolina Xue describes Mission San Jose as competitive and challenging to play against, "[Mission San Jose] has a really good reputation in tennis, so I thought…I'd lose by a lot," said Carolina Xue. As a result, players coming into the match had minimal expectations.
In Arista Zhu's (12) and Yana Bapna's (11) varsity doubles game against Harshita Bathina and Natasha Chang, the players used a new strategy throughout the match, which resulted in better communication and teamwork. "Usually it's like one [player] up, and one [player] back," Arista Zhu explains, "And with my partner, we tried two [players] back because the opponents were really good at following."
The reason for their defeat comes from their lack of confidence in themselves; Coach Barry Poole identifies the problem as "the players not trusting their training"
So once things turned south for the players, it became increasingly difficult to recover. "[T]hey just weren't dealing with the confusion when players make adjustments," said Coach Poole, "They need to be aware of what's happening."
But things aren't all negative. The previous 3 games of the season allowed players to gain valuable on-field experience. Improvement is evident in the players' every stroke. For example, Arista Zhu identifies her improvements in playing adaptively, "[O]ver time, what improved was trying to target those weaknesses. Because over time you see what their weaknesses are. And then you just try to come up with game plans to go against them."
Carolina Xue also recalls her improvement in the match, "I played smarter–I tried to make my opponent run a lot and…it worked. I was [also] encouraging myself [to] get through it."
This season brought a total of 5 wins and 1 defeat for the girls. Their next game is on Thursday, Oct. 7th, 2021, away against Kennedy. "We should do pretty well–we're not playing a team that has been known to be very competitive. "And as long as the girls can rebound from yesterday," said Coach Poole, "And just go out and do what they did against Newark we'll be fine."
About the Contributor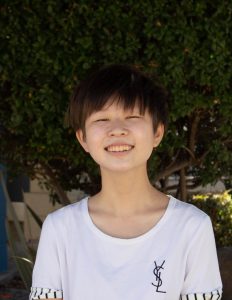 Crystal Chen, Graphics Editor
Crystal Chen is excited to be start her second year at
The Voice
! This year, she looks forward to making graphics that are weirder than muscular wheels, Mona Phillips, and kids falling off of unsuspecting horses. In her free time, she likes to play virtual dodgeball (and fail).