Girls' Tennis Season Recap
Girls' tennis successfully concluded their season with an outstanding 10-4 record. Their performance has been phenomenal this season; the team has won by a large margin on multiple occasions, demonstrated by when they won 10-0 against Newark Memorial High School.
Coming into the season, players were most excited about having fun with their teammates, according to Sunny Vempati (11). Captain Arista Zhu (12) identified team-building as her goal for the team this season, "I wanted everyone to bond…and to practice teamwork more," she said.
Prioritizing having fun aided the girls especially during tough matches. For example, Zhu recalled playing better when focusing on having fun rather than on mistakes.
The girls found playing against competitive opponents to be a great challenge this season. "It was challenging playing against some schools because they were really good," Zhu said. Nevertheless, they were proud of always putting up a fight and playing to the best of their abilities, according to Vempati. 
But playing tennis is all about overcoming challenges, according to Jolene Wei (10), "I really liked playing Mission because the person I was against was hard to play," she said. Mission San Jose's girls' tennis team is known to be competitive and difficult to play against. 
Other than a few minor defeats, the girls' tennis team won all of their games against James Logan, Washington, Newark Memorial, Moreau, and Kennedy. Despite only being their second game of the season, girls' tennis won all 10 matches against Newark Memorial. This remarkable game defined the team's streak of success this season.
But for Sunny Vempati, her most memorable game was their last match against American. "[I]t was the last game of the season. So I was really determined to play to the best of my ability," she said, "And I think I did really well [in] that game." Her excellent performance won her the crucial tiebreaker.
"I was definitely tense and stressed out because I did want to win the game," Vempati continued, "But I ended up calming down, taking a deep breath, and continuing."
During challenging games, players adjusted their mindset and moved on to overcome frustration. "I wanted to be less in my head during games. If I made a mistake, [I wanted to] just move past it instead of 'throwing on it' because sometimes I feel it affects how I perform," Zhu said. "I learnt that I have to be mentally resilient," she said regarding her improvement this season.
Not only did the team succeed in sweeping victories left and right, but players' friendships also strengthened, "We're always having drills together, playing games together … everyone's really close on the team," said Zhu (12).
The team is looking forward to improving how they play uphill against competitive opponents next season as well as having more fun with new and returning players.
About the Contributor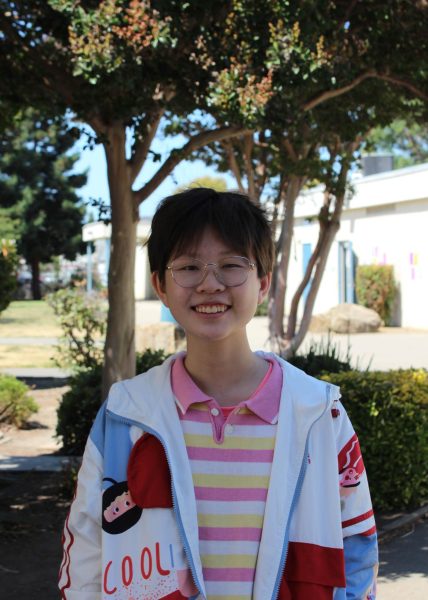 Crystal Chen, Features/Graphics Editor
Crystal Chen (12) looks forward to spending her third year at The Voice designing colorful features layout with Megan. In her free time, she loves to play Identity V and Genshin Impact with her friends. She also likes to draw digitally, but loses her Apple Pencil so often that it becomes quite a hassle sometimes. Her favorite musicians right now are Takayan and Tuyu.