Creating a Change: Varshini Amara
Hello! I'm Varshini Amara and am currently in 9th grade. From a young age, I've been volunteering at homeless centers, packaging meals for the poor. Volunteering at such centers was an eye-opening experience, as it made me realize that a lot of people in our community lack access to education and are therefore unable to support themselves. I was inspired to work towards addressing education-related issues and create impact through my work. My parents have also influenced me to care for the community and that has been a great motivation. So when I stumbled across GenUp in my Instagram feed I was inspired to join the organization. What attracted me the most to this organization is their work on advocacy and their focus on helping the underprivileged youth of today. It's the best decision so far.
GenUp is an advocacy group for K-12, and is also a collegiate group. The primary focus of the organization is to reform the educational pathways, and create campaigns locally, statewide, and globally. I revived a GenUp Fremont chapter here that was not active, and became the president for the chapter recently. We plan to initiate local campaigns that are targeted to specifically reform our educational system. We focus on areas like religious inclusivity, provide public speaking opportunities for kids, raise awareness and influence communities.
GenUp campaigns address education related issues from inadequate funding for schools. We are actively involved in passing about 27 laws in the legislative to address educational reforms. One of the reforms is to enable schools to start using solar panels that indirectly influences student health by improving the air quality.
Presently, I'm the USA director of campaign development in China. I am working on a bill that is involved in promoting religious inclusivity, by allowing schools to have excused absences that are not just restricted to Christian holidays. We have been able to successfully implement this in various districts, which was really rewarding to me as I was able to witness the impact of my work. Another bill that we were actively involved in is allowing kids 12 and above the freedom to make their own decisions about receiving a vaccine even if the parent or guardian does not approve of it. I was part of a three member team chosen to meet Senator Pam, at San Francisco to explain our viewpoint that kids, ages 12 and above, are mature enough to make the decision for vaccines on their own. The bill is still under review.
Additionally I oversaw a chapter for creating a peer tutoring local campaign that focuses on helping students with their educational needs. This was conducted in the Sacramento area and was a successful campaign that I am proud to be associated with. I helped the campaign with budget planning, securing funds, publicizing, and making the campaign toolkit. It was a great feeling to see the successful completion of the campaign and the positive change it brought about.
We help conduct interactive workshops for everyone, especially high school students. We conduct lunch events that allow students to bond closely, and give out specialty treats to acknowledge anyone who has influenced the community positively
My change project in school, focussed on textile waste, and gave me an opportunity to connect with Goodwill industries. I learned that there were a lot of volunteering opportunities for our youth to engage with Goodwill and help the community out. Unfortunately, not many people are aware about such opportunities and through GenUp, I hope to raise awareness and bring in more youth participation for community related work.
My near term plans for GenUp are to reopen the school chapter and applications for students who are interested in signing up after summer. Depending on students' interests, I also hope to plan field trips to San Francisco, where members can engage in conversations around the legislative process. Joining GenUp is one of the best decisions I've made and I hope to continue to positively impact the community through my advocacy work.
About the Contributor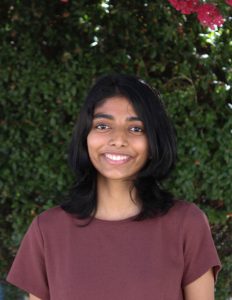 Ananya Anand, Humans of Irvington High Editor
Ananya (12) is excited to be a Humans editor at the Irvington Voice this year! She joined the Voice to highlight Irvington's beautiful, eccentric, and diverse community. In her free time, Ananya enjoys binging ATLA, writing poetry, and hanging out with her friends. Her IG is @ananya_anand05