Channing Whitaker//Staff Writer
Hang on for a minute...we're trying to find some more stories you might like.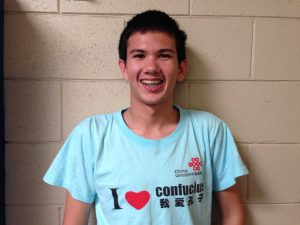 Channing Whitaker is a staff writer who is following his brother Aaron Whitaker's footsteps in giving 110% toward Volume 23 of The Voice. He is very excited to be on the newspaper staff for his senior year at Irvington. In addition to being on the Voice staff at school, he is a We The People team member, active participant in Choir, and captain of the Varsity boys' volleyball team. Since freshman year, Channing has been on the Irvington honor roll, maintaining a 3.0 GPA and above through his first three years of high school, and he hopes to maintain his 3.0 GPA average through senior year. Outside of journalism, he likes to watch movies with friends and loves to watch all kinds of sports, no matter the shape or size. He hopes that you read The Voice and have a great 2014-2015 school year.