Question Man: What item would you spend most of your money on?
Ananya Choudhury (9):
I would spend the most amount of money on buying my way into Harvard.
Jaylan Mo (10):
I would buy that juicy coffee because it tastes fantastic and keeps me going through that dreadful 8:00 through 3:00 time period.
Drishti Gupta (11):
I would buy this whole school and just glam it up. I want to make it look really nice.
Zainab Haque (12):
I would spend money on stuffed animals so I can suffocate in cuteness. What better way to go than to run out of oxygen while looking at a stuffed giraffe, you know?
About the Contributor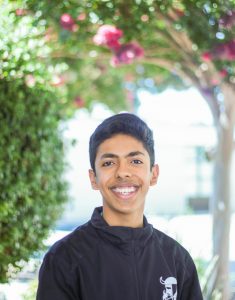 Prahalad Chari, Broadcast manager
Prahalad (11) is the broadcast manager for The Voice, and this is his second year on the staff. He runs the podcast "The Voicebox" but doesn't run out of energy easily. Known for holding many passionate "educational and enlightening" conversations, he has some trouble staying quiet. When he is quiet however, he is either sleeping, stressing, or studying.