Confidential: ASB Case File
ASB–from a pessimistic's point of view
Date: Saturday 8 October 2011
Time: 1307 hours
Location: SU
Agent: S. Chan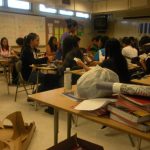 ASB is always shot down for making bad choices, holding poor dances, and being a useless class. I've been assigned to report what really goes on in Mr. Willer's Room. I'm going in. Wish me luck.
          Hiding behind cafeteria refrigerators, nobody pays attention. ASB seems to become arts&crafts class. In street clothes. Four in cafeteria working with cardboard and knives [potential danger?], cutting out seahorses [oh. never mind.]. Girl with sponge on floor, painting anchor. Three outside with spray paint, cardboard, and rope, looking at me strangely. Rats. They've spotted me. Time to blend in…
          Fifteen students inside talking, cluing, reasonably louder inside, making… fliers?, putting them in bags, with…glitter. Use SMART Board to trace mermaid figure onto cardboard [ah, clever.]. Only several students "leading". Two girls outside with glue gun, Styrofoam cups, making coral reefs.
Dozens of posters, paint bottles, scissors, becomes complete arts 
and crafts class.
Date: Monday 10 October 20
11
Time: 12:08pm
Agent: S. Chan
          It's the first day of Spirit week, Junior Day. The ASB workload for the week has begun.
          Hiding in lunch cart this time. Continue arts and crafts. Not everybody is dressed up. Aren't they supposed to be spirited? Some doing homework. Taking pictures of self and others. Walk in and out of cafe without really asking Mr. Willer.
          Is it just me or is everybody in ASB good at cutting paper from the giant colored rolls? Because I can never get it right.
          Girl organizing attendance roster. Five people surround Styrofoam cups and hot glue gun, safety measures aren't properly followed. Boy claps hands, tells everybody to clean up in five minutes. Everybody rushes to clean up. Very messy, shoving this and that away.
          Some students take paper and use for Homecoming proposal [unfair, advantage to them?] Some students very loud in hallways, disrupting students in class.