Musical Review: "The Lion King"
Simba's roar is loud, but not as loud as critics rave to be
By Aaron Whitaker
Broadway's production of  The Lion King returned to San Francisco after an eight year absence. The production exemplified outstanding costume design and a phenomenal orchestra.  However, the lead actors' costumes did not quite meet my expectations.  The Lion King opened at the Orpheum Theater on November 1st and concluded its show on January 13.
The story revolves around Simba (Jelani Remy), a young lion who is next in line to take the thrown as king of the savannah proceeding his father.  However, Simba's Uncle Scar (Derek Smith) is still upset that his brother took the thrown and kills him and frames Simba.  Simba then escapes into the wilderness where he meets Pumbaa (Ben Lipitz) and Timon (Nick Cordileone), an unlikely pair of friends who he grows up with.  But when one of his old friends, Nala (Syndee Winters), finds him and tells him of the terrible consequences of Scar's poor ruling, Simba returns to the savannah to ultimately claim the throne.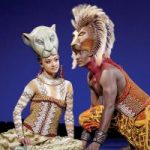 Syndee Winters, left, plays Nala and Jelani Remy plays Simba in the touring company of "The Lion King."
The orchestra was so outstanding, it was as if they were not there.  The costume designs were also very creative.  At the beginning of the show, a costume shaped like a full-sized elephant came into the room and awed the audience.  In addition, the Lion outfits had masks which seemed to move without any movements from the actors. "This show has one of the best costumes that I have ever seen on stage. I love how they allow the actors very free movement while still looking animalistic," exclaims Irvington alumni Samantha Rasler.
Although the lion costumes had interesting masks, the rest of the outfit lacked appeal.  The male lions wore a simple garment which covered the ribcage downward.  The female lions wore moccasin-like coats.  In addition, the "Morning Report" number was cut out of the show.  Rasler says she " really liked that number and was disappointed that it had been taken out."
The most impressive part of the show was when a large lion face appeared on the back drop of the stage, portraying Simba's reflection.
Despite the disappointments I encountered watching this show, it was definitely worth the time and money and I would recommend it to people of all ages.  Unfortunately the show has closed to continue its national tour. If you are just looking to see a fantastic show, Orpheum will host Wicked starting January 23.