Club Ultimate, Interact Host Charity Ultimate Frisbee Tournament
Washington prevails over Irvington in final match
By Karthik Mayilvahanan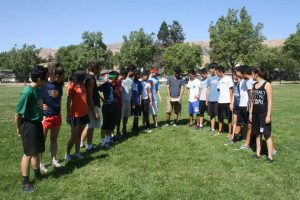 Washington (left) and Irvington (right) partake in the pregame coin toss to determine who will start off with possession of the frisbee.
On May 25th, Club Ultimate and Interact held a joint ultimate frisbee tournament to raise money for Life, Love, Literacy, Interact's international project, at the Warm Springs Community Center. The tournament featured three teams from Washington's ultimate frisbee club, and three teams from Irvington, one of which consisted of Interact members.
In this double elimination tournament format, Irvington's A team remained victorious, up until the final round, where they faced Washington's A team, which had lost its first match but had climbed to the top of the consolation bracket. Washington handed Irvington its first loss, but per the double elimination format, the two teams would face off again in the final round, in which Washington won again.
"[The tournament] was successful because students from both Irvington and Washington were able to come out to play ultimate frisbee while hanging out with friends and making new ones," said sophomore Sebastian Cai.
"The event was pretty great," added Club Ultimate secretary, juinor Omar Agha. "There was an awesome environment and I enjoyed the friendly competition with Washington."
As for the charity side of the event, Interact charged players a three dollar entry fee per person, and 8 people were required to form a team. According to Interact secretary Kris Lacson, close to $200 was raised for Life, Love, Literacy, a project dedicated to increasing educational opportunities in Bangladesh. After awarding the winning team with $50 and reimbursing various other expenses, the total amount donated to charity was about $130.
Club Ultimate publicity officer, junior Nathan Padrid explained the value of the tournament not only  in terms of having a good time, but also in terms of giving back. "Such events are a fun, interactive and simple way to get people active and moving while also raising funds for a good cause," said Padrid.