League of Legends: New Sport that is Upping its Game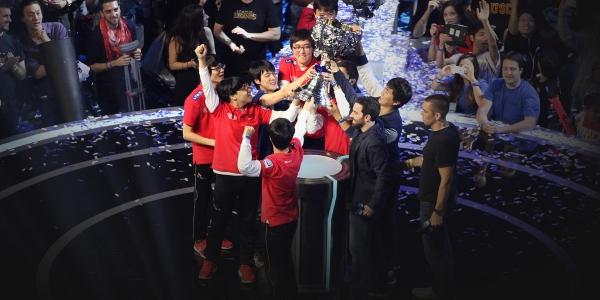 LOL rapidly grows in popularity, huge turnout at season 3 world championship
Kelsey Ichikawa | Staff Writer
A testimony to the extensive popularity that the video game League of Legends has gained, over 32 million fans viewed the Season 3 World Championship final match, according to Eddie Makuch of Gamespot.com.  The match, which took place at the Staples Center in Los Angeles on October 4, 2013, was between South Korea's SK Telecom T1 and China's Royal Club, and people from around the world watched through TV stations and online streaming.
In addition to attracting a sold-out crowd in the Staples Center, the Season 3 World Championship gained nearly 24 million more viewers than last season.  According to the tournament host, Riot Games, these numbers set a new record  for the most viewed e-sports event.
League of Legends is an online game which involves two teams of five players each that "battle head-to-head across multiple battlefields and game modes," as its official website describes.  The popularity of the game has been rising at an unprecedented rate since its release in 2009.  "We're continually excited and humbled by the number of fans that are tuning in to watch us," remarked Dustin Beck, Vice President of E-sports at Riot Games.  "Our viewership is continually growing week after week."
Even Irvington students have noticed the spread of League fever.  "League of Legends has grown so much," noted senior Steven Lee, who plays competitively on an Irvington team. "When I first started, I only knew a few people at Irvington who played.  Now, I can just go on the bus and I'll hear tons of students talking about it."
Another indication of League of Legends's massive success is its recent establishment as an official sport.    League gamers can receive visas to travel internationally for tournaments and training, just like athletes from more traditional sports.
In regards to League of Legends being named a sport, Lee commented, "I was actually surprised when I heard, but I was really happy.  It's a great start for e-sports, and video games in general, because now people are taking video games more seriously."
League of Legends has become an integral part of not just the professional world but Irvington's culture as well.  This season, Lee's Irvington team, which competes in tournaments hosted by a high school association called StarLeague, ranked third in the North American region out of nearly 260 other high schools.