Allyson McAuley: More than Just Irvington's Librarian
International Women's History Month Spotlight
By Jenny Lu | Editor-in-chief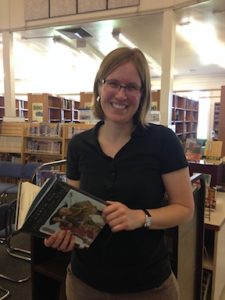 We lament and throw our hands in the air and scoff at the current state of America's education system. We hold our books with chapters that are nearly completely disconnected from the spine and shake our heads. We deride common core without really knowing what it even entails. We look for that one person who will change things for the better; we're looking for our MLK, our Lincoln, our George Washington. But that's not how reform works. Educational reform starts from the microcosmic community, with seemingly "ordinary" individuals working for improvement. Ms. Allyson McAuley is one such individual.
In addition to the roles we see her fill every day at Irvington–ranging from our librarian to the turnitin.com coordinator—Ms. McAuley has been working hard on getting new books approved. "Right now, the process of getting books approved is really restrictive," said Ms. McAuley. "In English, we generally read books that have been published for a long time. We need to read new things, in all different subject areas like science and history." Recently, Ms. Friend was able to get Junot Diaz's The Brief Wondrous Life of Oscar Wao approved for her students to read, and the district has also approved a few science books ranging from The Immortal Life of Henrietta Lacks to Physics for Future Presidents. Ms. McAuley believes students should be reading more modern books and has been pushing the district to allow students to read a greater variety of books.
Technically, Ms. McAuley is a library media teacher; she teaches research lessons to students. "People have a very old fashioned view of librarians as people who just check out books," said Ms. McAuley, "And I do check out books, but that's not all. I try to help people create their own questions and solve them. I really want students to leave high school with the information skills necessary for college. I want them to be able to walk into a college library and know how to find things and do research." Ms. McAuley also helps teachers plan lessons. Recently, she has been helping teachers implement Common Core Standards into their lessons. Additionally, Ms. McAuley serves as the central benchmark support person for the skills that cross over between classes. "There's not a class that specifically teaches you how to, for example, create a Powerpoint," said Ms. McAuley. "That's where I come in."
In addition to all the roles her job entails, Ms. McAuley advises Irvington's Girls in STEM club. Ms. McAuley applied for a grant to get money for Irvington's girls STEM education, and since the grant ended this year, she turned it into a club. Students are in charge of it, and they participate in a lot of STEM related activities, such as algae clean-ups and various field trips.
As a former English teacher herself, Ms. McAuley is also on the district committee for English Common Core where she works on developing plans to help teach the new standards at the school.
After obtaining her second masters degree from San Jose State in library and information science (her first masters degree is in education) last May, people constantly asked her what she wanted to do now that she had a new degree. Her answer? "I have my dream job—I am exactly where I want to be."