Play-in-a-Day Debuts on Stage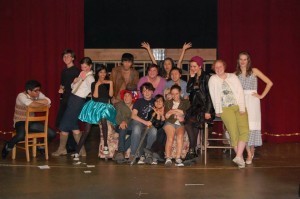 Irvington Thespians rise to 24-hour challenge
By Kelsey Ichikawa | Staff Writer
The lights go down, and thus begins the climax of the Performing Arts Club's (PAC) Valentine's Day extravaganza—the opening and closing night of four plays prepared in just 24 hours by Irvington students. Due to the holiday occasion, all of the plays revolved around the theme of love. Lighting, script, prop, and costume logistics were all planned before hand to produce one-act plays on the evening of February 14. The show functioned as a fundraiser for the club.
All participating thespians had received a randomly chosen group assignment and setting for their play on February 13. They then had until 6 PM the next day to write a script, commit their lines to memory, rehearse, and coordinate all technical aspects for their act, including lighting and stage transitions. The president of PAC, senior Frances Ramsel, noted, "It's a huge feat to write, direct, act in, and produce a one-act play in only 24 hours; it's like asking someone to write a novel in that period of time for all the effort that goes into it."
About 40 students and parents showed up to watch the fruits of PAC's labor. Ramsel reflected, "That was good, but next time we want more people at Irvington to get excited about seeing it."
Ramsel commented, "Most other schools only do one full length play for an event like this, but for PAC/ITS we actually had a number of people who wanted to write and we knew we had the talent to do multiple one act plays instead of just one full length."
The first performance was called "For Death and Glory! (Also, Love)" and was directed by junior Zack Lew. It took place in post-apocalypse San Francisco and featured a trio of weary travelers sojourning to the Golden Gate Bridge. Two of the characters confess their love for each other amidst vicious attacks by Communists.
The next performance, "Stage Fright," was an Inception-like arrangement of a "play within a play," in which a director attempts to organize a modern day rendition of Hansel and Gretel but is thwarted when the evil witch's spirit overtakes the show. The two characters playing Hansel and Gretel are having an obvious love affair, adding a nice touch of humor. As the director, senior Sabrina Burkhart, phrased it, the performance was "4-D," with candy being thrown at the audience and the thespians themselves, fog machines running, and Valhalla doors slamming in a haunted-mansion-like ending.
After that, the skits took a turn for the serious with "Loveless in Seattle," directed by sophomore Jasmine Wahab. The plot centers around a girl who feels her brother doesn't love her and turns to a boy she just met at school for comfort. In the end, the four characters express lessons about different forms of love—self love, sibling love, love at first sight, and love between friends.
Finally, the night closed off with "A Beatle for a Lover," a comedy directed by senior Kyra Halpenny. The setting was during the Beatles fever in Britain, and the three characters struggle through fangirl love as they swoon over Paul McCartney and George Harrison. It included many repartees and fast-paced quips that evoked loud laughs from the audience.
Audience member and junior Lauren Murvihill remarked afterwards, "I was really impressed by how well the plays were done considering how much time they were given to make them."
Junior Julia Lu also said, "I enjoyed the interaction with the audience."
"It was a challenge, but it's an unforgettable experience that's broken all limits for what I can do as an actor," actor and senior Sami Khan added. "Put on a entire play in 2 short weeks? No longer sounds like a nightmare, I can do that! Perform 3 shows in a day? Doesn't sound like a challenge anymore, I can do that too!"
According to Ramsel, PAC is considering putting on another Play-in-a-Day event later this year.