Sleep Habits of Irvington High School Students
PE teacher Mrs. McCallum discovers students not getting enough sleep through survey
By Rashi Saxena | A&E Editor
In an effort to determine sleeping patterns of Irvington students, PE teacher Mrs. McCallum decided to conduct a survey, asking about 1010 students three questions. In conjunction with the Edjoycation task force, the PE department asked all 9th and 10th graders in PE classes and also asked some 11th and 12th graders between January 5th and January 11th. Students were asked what time they went to bed, what they were doing an hour before they went to bed, and how many hours they slept.
The survey showed that more than half get less than nine hours and almost a quarter of students survey sleep past midnight. "I found what I expected," said Mrs. McCallum. "Kids are not getting enough sleep. I can already see the hours of sleep diminishing between 9th and 10th grade." According to Mrs. McCallum, students are overwhelmed and are not able to manage their time properly. She noted that sleep habits generally got worse as students got older.
"I think that students don't get enough sleep because they are doing homework, studying, and also wasting time by watching television," said freshman Milad Shajareh. "Teachers should give more time for homework and studying. I think the survey helped because it gave teachers an idea about how much sleep students here at school get." Mrs. McCallum agrees, as she also believes that a survey of Irvington High School students would benefit teachers more.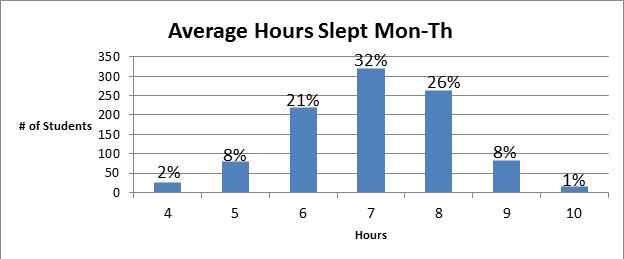 When asked why she wanted to survey students, Mrs. McCallum said, "At Edjoycation meetings, talking with parents and students made it obvious that students were having issues with sleep." She discovered that many students were having a hard time falling asleep. Seeing students facing so many problems, she wanted to find a way to bring this issue to the forefront.
After tallying the results of the survey, Mrs. McCallum shared her data with all the teachers at a staff meeting. According to Mrs. McCallum, teachers and students should work together to help students manage their time better with everything that students have to do.
While students are very busy with all their activities, Mrs. McCallum feels strongly about the importance of allowing students to take a break. "I want students to have more opportunities to de-stress," said Mrs. McCallum, "Students should make use of the powernaps and stress-free advisories that Edjoycation organizes."
"I would have loved to get more data from 11th and 12th graders," said Mrs. McCallum. Because the survey's data comes mainly from 9th and 10th graders, the results cannot be generalized to the whole school. However, according to Mrs. McCallum, seeing a drop in the hours of sleep between these two grades can be seen as an indication of how much sleep the 11th and 12th graders would receive. She hopes to continue working with Edjoycation to help students reduce the time they work and increase sleep time.