Luis Domantay Crowned Mr. IHS 2014
Mr. IHS contestants share experiences after competition
By Chandni Patel and Iris Lee | Student Life Editor and VTV Editor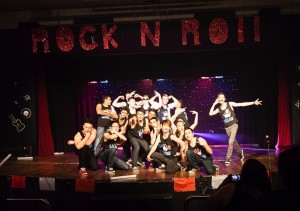 This year's Mr. IHS competition opened its curtains to a full crowd that showed up to watch 18 of Irvington High School's senior boys compete to win the title of Mr. IHS. Contestant 9, Luis Domantay, claimed this year's first place prize, which included not only a $500 dollar scholarship, but also a free professional photo shoot and an all-expenses-paid trip to Disneyland, paid for by MeCHA. Kevin Hsu, Ryan Lovejoy, Aaron Klein and Brandon McAlister won second, third, fourth and fifth place, respectively. The show was MC'd by seniors Selena Chen and Lauren Wellman, and former Irvington High School student Daniel Tiapon.
        The show included the typical group dances, choreographed by Karissa Mejia, as well as the individual talent, swimsuit and formal acts. The show started with the introduction of all 18 contestants, and the following acts were interspersed with videos of the boys doing various comedic activities in places in and near Fremont, including at Irvington and at various locations in San Francisco.
        The audience, contestants and judges, including Mr. IHS 2013, Ariel Hercik, and other participants of last year's competition, voted for the winners of public awards. Public awards are awarded to winners of specific categories, such as Mr. Diva, won by Contestant 11, Aaron Klein, or Mr. Photogenic, won by contestant 8, Krishna Basude. Awards included two Viking awards, Talent, Popularity, Congeniality, Interview, Most Improved, Fitness, Formal, Energetic, Rock and Roll and the final placements.
        Helen Vasquez, the 17 year-old world champion for salsa dancing, gave a special performance during the show with her partner, and Irvington senior and Mr. IHS MC, Selena Chen, performed a Tahitian dance.
        Kevin Hsu, contestant 16 and the winner of the award for Mr. Talent, said that his favorite talent was contestant 6, Mahmoud Eldesouky's, rendition of "Hollaback Girl" by Gwen Stefani. Brandon McAlister, contestant 12, supported this view saying that seeing "Mahmoud dressed up as Gwen Stefani" was his favorite part. Domantay also commented that Eldesouky "rocked that crop top."
A similarity with many of the boys were their comments about the camaraderie that they developed from the experience. "We got really close," commented Domantay. Basude echoed these sentiments, as well as the remaining top five.
Audience members similarly commented about this friendship, including stage tech Garrett Cheng and audience member Kyra Halpenny. "You can see how close they are when they're on stage," Cheng commented as he reflected on the boys' rehearsals. " It doesn't really seem like a competition."