New and improved recipes for the perfect Thanksgiving feast
By Shayna Kapadia | Student Life Editor
Stuck thinking of new dishes to make this Thanksgiving? No problem! Here are four delicious dishes sure to make your mouth water. Whether you're vegetarian, carnivorous, or short on time, there's a recipe for you. Enjoy!
Penne with Creamy Pumpkin Sauce

Prep: 10 mins | Total Time: 30 mins | Serving: 4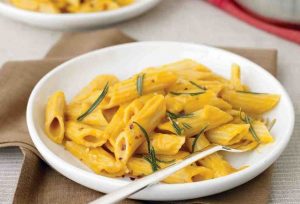 Ingredients: 12 ounces penne, salt, 2 tbsp. olive oil, 1 tbsp. fresh rosemary, 1 15-ounces can pure pumpkin puree, 1 garlic clove, minced, 1/2 cup half-and-half, 1/3 cup grated Parmesan, 1 tbsp. white-wine vinegar, 1/4 tsp. red-pepper flakes
Directions:
  Cook the pasta in salted water. Drain and set it aside. Save the pasta water.
  In the same pot, heat the oil and fry the rosemary. Once it is brown, set it aside.
  Add the rest of the ingredients to the same pot with 1-cup of pasta water. Stir until heated thoroughly.
  Add the pasta to the sauce, toss and top it with fried rosemary and enjoy!
Tips: If sauce is too thick, add some more pasta water.
Roast Turkey
Prep: 15 mins | Total Time: 3 Hours 45 mins | Servings: 10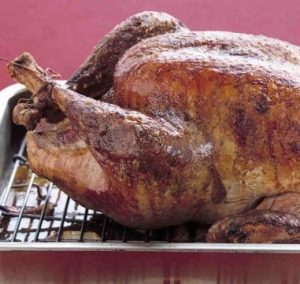 Ingredients: 1 fresh or thawed frozen whole turkey, 1 stalk celery, large pieces, 2 dried bay leaves, 2 medium carrots, large pieces, 2 medium onions, quartered, 4 tablespoons butter, 1 teaspoon poultry seasoning, Coarse salt and ground pepper
Directions:
  Preheat the oven to 350 degrees F. Clean the turkey.
  Stuff cavity with celery, bay leaves, and half the carrots and onions. Tie the legs together. Rub with butter and then sprinkle it with poultry seasoning, salt, and pepper to season.
  Spread the rest of the onions and carrots on a roasting pan. Put turkey on the pan and cook. Baste frequently for the first hour until golden brown, juices run clear, and temperature is 170 degrees (2.5 – 3 hours). Rest 30 min and carve.
Last Minute Mashed Sweet Potatoes
Prep: 10 mins | Total Time: 30 mins | Servings: 8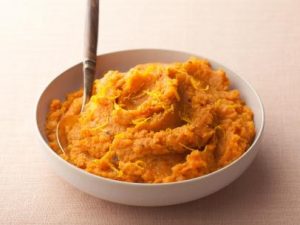 Ingredients: 3 pounds sweet potatoes, peeled and cut into chunks, 1/2 stick butter, 1 sliced banana, 1 orange, zested and juiced, 1 cup chicken stock, 1/2 cup brown sugar
Directions:
     Boil potatoes, drain, and return the pot to the stove.
     Add butter and bananas to pot. Cook for 5 minutes; add juice of 1 orange. Cook for 1 minute.
     Add potatoes, stock, and sugar. Mash everything together.
     Season with nutmeg, salt, pepper, and orange zest to your liking. Mash some more.
Cranberry Upside – Down Sour Cream Cake
Prep: 20 mins | Total Time: 1 hour 30 min| Servings: 8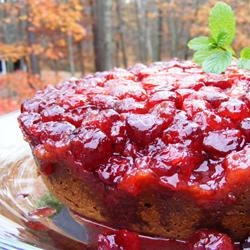 Ingredients: 1/2 cup butter, 2 cups white sugar, 2 tbsp. water, 1 tsp. ground cinnamon, 1 (12 ounce) bag fresh or frozen cranberries, 1 1/2 cups cake flour, 1/2 teaspoon baking soda, 1/2 teaspoon salt, 6 tablespoons butter, softened, 1/2 cup white sugar, 1/2 cup brown sugar, 2 eggs, 1 tsp. vanilla extract, 3/4 cup sour cream
Directions:
  Preheat oven to 350 degrees F. Grease a 9 inch pan.
  Melt butter in a saucepan. Stir in 1 ½ cups of the sugar, water, and cinnamon. Boil and add cranberries. Stir the mixture then pour it into the pan.
  Sift flour, baking soda, and salt together. In another bowl, beat remaining 6 tbsp. butter with ½ cup sugar and brown sugar. Beat in eggs. Stir in vanilla and sour cream.
  Mix in dry ingredients. Pour batter over cranberries in the pan.
  Bake for 50 minutes or until a knife inserted into the center comes out clean. Cool for 10 min. Flip onto a serving plate and remove the pan. Cut and serve.