New Korean ice cream parlor chain opens in Pacific Commons
By Shayna Kapadia | Editor-in-Chief
Located near Chipotle in Pacific Commons, Milkcow has a unique take on the ice cream scene. Walking into the cafe, the cow decorations, furniture, and visual menu create a futuristic ambiance. Unlike other ice cream parlors, Milkcow focuses on natural ingredients and only has milk-flavored soft serve ice cream to which they add various toppings like honey and cotton candy. They also sell coffee and tea, which both can pair well with ice cream.
I arrived at around 10:00 p.m., and there was no line, but I had to wait about five minutes until my order was ready. Out of the 12 different combinations of toppings available, I ordered the Milky Cube and the Mont Blanc, which cost about $10.00 total without tax.
Their signature ice cream, the Milky Cube, consists of their milk-flavored ice cream with a small honeycomb on the top. Their soft serve ice cream is smoother and lighter than normal ice cream, but is also creamier than frozen yogurt. Though I did not have this problem, some online yelp reviewers say their ice cream melted very quickly. Nevertheless, I found the ice cream to be tasty and not overly sweet as ice cream from Coldstone or Baskin Robins is.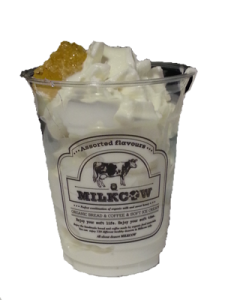 At the same price as the Milky Cube, the Mont Blanc is more elaborate  and includes layers of cookie crumble, cotton candy, chocolate rocks, and apple syrup onto the milk-flavored ice cream. Though an odd combination, the toppings complimented each other well. The soft cotton candy contrasted with the crunchy chocolate rocks creating a variety of tasteful textures. However, the cotton candy was awkwardly placed on the top, making it difficult to get to the ice cream below.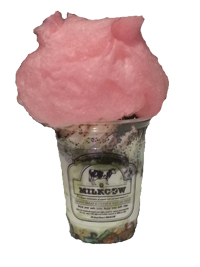 Milkcow is definitely not your typical ice cream parlor, but its products are worth a try. For times when you want something sweet but not too sweet, this is a great place to hit up because you can get both plain desserts and extremely fancy ones.