Heckled by Heckard
By Matthew Chan | Editor-in-Chief
What could be worse than suing an athlete for looking like you just because you're older?  Suing the greatest basketball player of all time of course!  Allen Ray Heckard from Portland, Oregon, sued previous NBA superstar Michael Jordan and Nike founder Phil Knight in 2006 for bringing him emotional suffering.
Heckard claimed that Jordan's fame caused him emotional pain since people would mistake him for the famous basketball player.  Heckard reasoned that because Jordan was eight years younger, Jordan was the one who had copied his looks, thus stating $832 million in damages from Jordan for looking like him and from Knight for making Jordan into a celebrity.
Heckard's accusations were the center of attention of the press for a while, with many columnists expounding on the absurdity of Heckard's claims.  A CBS columnist even satirized the situation with an online article titled "Get an Earring, Join the Lawsuit."  While the article discussed the case's ridiculous points, it also showed how easy it was for anyone to sue celebrities over little things, even for having the same earring.
Heckard eventually called off the trial after the case gained widespread publicity, giving no reason.  Nike spokespeople speculated that Heckard might have realized the costs and potential losses for pursuing the trial.  Maybe he should have thought about the differences in their basketball skills before calling a tria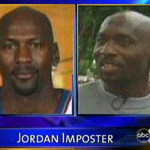 l.