By Sabrina Sun | Staff Writer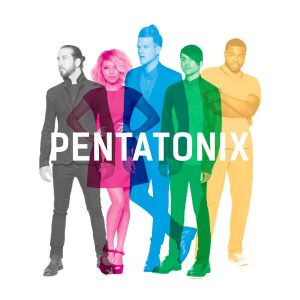 Pentatonix, the platinum-selling acapella group composed of Scott Hoying, Mitch Grassi, Kirstie Maldonado, Avi Kaplan, and Kevin Olusola, released their fourth album on October 16, 2015, which is simply titled "Pentatonix".  A bit lacking in the naming category, the album includes a cover of Shai's "If Ever Fail" while the deluxe version contains covers of OMI's "Cheerleader",  Major Lazer and DJ Snake's "Lean On", and Justin Bieber's "Where Are You Now?". These covers allow Pentatonix to once again, show off exceptional their ability to add their own twist while holding true to the original song. The rest of the album, however, is composed of original songs, a first for the cover-oriented group.
The first song "Na Na Na" begins the album with an upbeat tone and tenor lead Mitch Grassi singing main vocals. The lyrics "I see so clearly why I'm always feeling free
So why sleep when my dreams looking like reality?" are as carefree as Grassi's breathy delivery. The easygoing song maintains an energetic vibe through cheerful exclamations and harmonies. Bass lead Avi Kaplan described this song as a "Super crazy, out there, fun song that really featured the trio." Na Na Na fits this description perfectly, the seemingly spontaneous composition and scatting making this a lively opening song to a promising album. Unfortunately, the chorus, which is simply a repetition of 'Na's, comes off as repetitive and the lack of melody makes the song sound rather empty.
The next song in the album is "Can't Sleep Love",  which includes a version featuring the rapper Tink. The main vocals are sung by baritone lead Scott Hoying who adapts to a falsetto in order to fit the song's mood. This song has a melodic, retro style with a catchy chorus and romantic lyrics bemoaning the lack of "that can't sleep love". The harmonization in the chorus combined with Kaplan's smooth bass line truly makes "Can't Sleep Love" into a classic for romantics.  However, the slow pace and muted vocals of this song may not suit everyone's preference.
The cover of "Cheerleader" changed the generic pop hit into a nostalgic song about a sweet high-school love.  Grassi's opening riff of the trumpet solo is clear yet familiar and Kaplan's bass perfectly substitutes the soft piano. Vocal percussionist Kevin Olusola's beatboxing is, as always, superb and pairs well with Maldonado and Grassi's harmonies. Pentatonix's flawless composition and lack of autotune capture a tropical, bubbly mood which OMI's version did not fully execute.
"Pentatonix" is an album full of outstanding harmonies, bass lines, beatboxing, and arrangements that are the hallmark of one of the most prominent acapella groups. The presence of original songs only enhances the experience, demonstrating their flexibility and creativity. Although some songs may feel too lethargic, vacant, or repetitive, "Pentatonix" is a treat to fans and a great way to be introduced to the world of acapella.