Irvington shows its talent
By Sabrina Sun | Staff Writer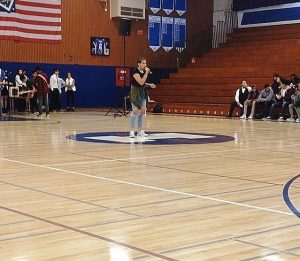 The Irvington ASB hosted a lunch time talent show on Nov. 13,in the big gym as a part of the Love Vikings Spirit Week. The talent show's impromptu conception as a substitute for the cancellation of guest speaker James 'Chad' Crittenden resulted in disorganization, very little publicity, and lack of proper auditions.
Crittenden, a motivational speaker and competitor of the reality show Survivor: Vanuatu, cancelled due to schedule conflicts. Of the 12 acts originally listed, five withdrew while others were unable to perform due to time constraint. Aside from the cheerleaders' routine and Mr. Ip's backflip segments, the acts mainly consisted of song covers. Rally commissioner junior Tyler Vo served as the emcee and despite the lack of publicity, more than a quarter of the gym's bleachers were occupied.  
The two coordinators, sophomores Yeemon Kyaw and Shanay Randeria, ASB's Edjoycation commissioner and assistant respectively, publicized and recruited applicants through the usage of Facebook and Google Sheets. The event is part of Love Vikings Week, a Spirit Week dedicated to encouraging self-love and the appreciation of fellow classmates.
"We want to show the talents of our students," Randeria said."It really goes into the theme that we love everyone for what they do."
ASB plans to make Love Vikings week a recurring event however, it is not yet clear if the talent show will also return.