Girls' Varsity Volleyball fights hard against American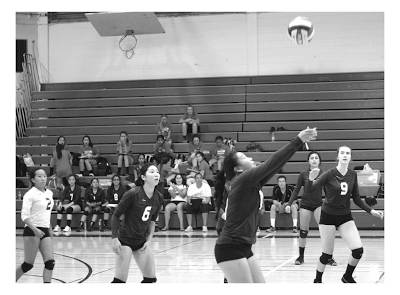 Although they fought hard on Tuesday, Sept. 27, the girls' varsity volleyball team lost the game against American. In a game against American High School, the girls' volleyball team lost three out of four sets. Even though they didn't win, the team put a lot of energy in their game and made the opposing team work for their win.
Irvington won the first set 26 -24 against American, but American quickly picked up the pace. The first set was very intense, as the two teams played very well and were exchanging points throughout the set. In the beginning, Irvington maintained a consistent lead against American. After a couple minutes of Irvington keeping the lead, American gained a one point lead at 8-7. However, after several good offensive moves, Irvington reclaimed the lead and won the set.
The second set was very fast paced as well with both teams one-upping one another in the beginning, but American gained and maintained a steady lead of 3 points after a few minutes. Although, Irvington fought hard and kept at American's heels, American won the set with a score of 25-18.
Irvington regained their energy after the first two sets and fought ferociously in the third set. After a serious of good offenses and blocks, Irvington had an outstanding score of 8-1. This amazing lead, however, slipped out of their hands as American recuperated and brought up the score to 18-17. Although Irvington tried to regain the lead, due to failed returns on their part, they ended up losing the set 25-17.
The fourth and final set started with a five point lead to American. American maintained a 4-5 point lead throughout the first part. The Irvington team was strong, but, due to good offenses from the opposing team, they lost the set to American at 25-18.
Overall, the team was skilled and had the ability to beat their opposing team in the match, but, due to a number of good offenses from American and failed returns by Irvington, they lost this match.
"You've got to be mentally tougher during a match." said Coach Young. "It's a learning process and we've got to get better at it."