Cross country Overpowered by Moreau
Irvington's cross country team raced Moreau on September 29 at Moreau's home turf, Garin Park in Hayward. Although Irvington's determined racers had trained in close to 100 degree weather for the practices prior this race, the pothole-ridden trail and the absence of a key varsity runner proved to be too much for this race.  After a tremendously grueling run, Irvington unfortunately ended up losing in all five divisions: Freshman/Sophomore boys, JV Girls, JV boys, Varsity Girls, and Varsity Boys.
The average student 1.5 mile flat-terrain BUUM once a week keeps students whining.   Competitors at the meet, however, had to battle an arduous two miles for JV and an exhausting three miles for varsity on a hilly terrain, not to mention running at least five  miles a day after school five days a week. However, as most of the cross-country racers commented, heat wasn't the most defining factor to their loss last Wednesday.
As captain Katharine Ong (11) put it, " It [was] definitely difficult, but we've trained through a lot warmer temperatures…it's more of the wind and the mentality.  Compared to the races I've done in the past few years or so, today could have been done way better then it was. I think I was way too eager that it was going to be flatter than it was, but as I ran into those hills, it really stopped me a little bit with my pace."
Although, conditions at Garin Park proved to be far from optimal, several runners did clock out impressive times.  For example, Coach David Thompson mentioned that Tommy Clark (10) in the Freshman/Sophomore division, Kathleen Brahan (10) on Varsity girls, and Poloma Zuerlein (9) also on Varsity girls all clocked commendable times.  
Wednesday's race was definitely not Irvington's best day.  However, Coach Thompson has a hopeful outlook for future races, saying, "A lot of them weren't running as aggressive as they normally could. Moreau has a tough team this year so…it'll be interesting to see how they do coming into MVALs.  I think numbers wise, we're the better team. There was definitely some factors were against us today."
Many components contributed to Irvington's defeat against Moreau.  However, hopefully, Irvington's Cross Country team's commitment and resiliency will shine through in their future races.  
About the Contributor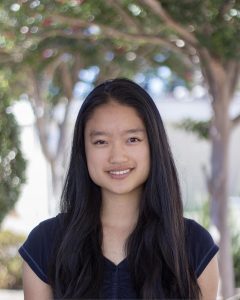 Elaine Chan, Editor-in-Chief
Elaine (12) has been a staff writer on
The Voice
for three years, was previously student life editor, and is currently c0-Editor-in-Chief. She particularly enjoys creating aesthetic layouts on indesign and interviewing people for articles.  In her free time, Elaine enjoys competitive dancing and traveling with her family.