Are you fonda Honda?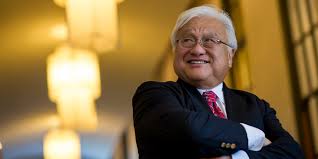 Michael "Mike" Honda has been defending his seat as representative of the 17th District of California in Congress, persistently proving he is the best candidate for the job. Ro Khanna, a fellow Democrat, is Honda's primary adversary for his seat in the House of Representatives. After the tight run race in the 2014 election, Honda is working hard to keep his seat.
From 2001 to 2012, Mike Honda represented the 15th District of California. Since then, he has been a representative of the 17th District of California, an area encompassing Cupertino, Fremont, Milpitas, Newark, San Jose, Santa Clara, and Sunnyvale. This district is the only one in the continental United States that is an Asian American majority, the fastest growing ethnic group in the U. S.
Outside of Honda's duties as a representative, he is very involved in other aspects of government. He is a Federal Appropriator, meaning he is part of a small, influential group within Congress that discusses and decides how government funding should be spent in certain parts of the United States. He is also a member of 97 Congressional Caucuses, which are organizations within our legislative body that discuss and decide on many important topics, and holds leadership positions in some notable ones: Chair Emeritus of the Congressional Asian Pacific American Caucus, Founding Chair of the Congressional Caucus to End Bullying, Vice Chair of Congressional Progressive Caucus, Chair of the Congressional Ethiopia and Ethiopian American Caucus, Co-Chair of the Congressional Hepatitis Caucus, and Vice Chair of the LGBT Equality Caucus.
Honda has a wide variety of platform priorities, many of which he has made significant progress for. Education equity, ending human trafficking, ending gun violence, preserving social security, and ending the housing crisis are just a few. LGBT Equality is a particular issue that is deeply personal to Honda — he strongly supports his transgender granddaughter Malisa and hopes that equality for all can be achieved. Another priority that directly affects voters in his district is BART expansion. Honda has directed $900 million in funds through the Full Funding Grant Agreement for BART expansion, to unite the Bay Area's rail system. Despite his accomplishments for our community, Honda has faced a lot of criticism, especially from Ro Khanna's supporters, including a smear campaign called "Where's Mike?"
Recently, Honda filed a lawsuit against Ro Khanna's campaign manager for illegal activities, claiming that Khanna's campaign has been accessing Honda's fundraising files, using them to contact donors and to leak sensitive information that would cause speculation about Honda's campaign.
In this election, both candidates have similar platform priorities and progressiveness. Honda has been an active member of Congress, constantly trying to improve legislation in his District as well as holistically for the United States. He has made many steps towards change, and defended his seat well. However, ultimately, it is up to voters.