Girls' Volleyball Ends Season Victorious
Irvington volleyball's last game of the season against Washington was on Oct. 27.  Although the game was close, Irvington's girls' volleyball showed their true colors when they won the last few points of the game.  
Following senior night, the players were pumped and focused a on the game.   Irvington quickly won the first two sets with the scores of 25-21 and 25-22. However, Irvington's initial enthusiasm proved to be not enough for the third set.  As coach Marcus Young said, "I don't think the third set was really a fatigue thing…I think it was more about focus. You know we had just won the first two sets; we might not have focused as well as we could have, so we made a few too many errors." A series of out-of-bounds hits and delayed reactions by Irvington allowed Washington to gain the lead and win the third set 25-18. However, Irvington returned in the fourth set with renewed focus from the loss.  At first, Washington was still energized from its recent win and was in the lead, 10-6, for the first few minutes into the game. However, through strategic passes and cohesive effort, Irvington was able to level off with Washington at 14-14. From that point, Irvington and Washington exchanged points until they were even at 25-25. With the crowd nervous with anticipation, Irvington won the last two points and came out on top at 27-25.
Coach Young stated that he was very satisfied with how the team played, "We fought really hard to win our final round.  I thought Captain Emily Kao played very well tonight. She's led this team this whole season with her setting and serving…and just running the offense."
For the seniors, this was the last game they would ever play as a highschooler.  Captain Emily Cao said through tears of joy, "I'm really happy because we won and I think we played more for each other.  Even though we didn't win as many games as we did last year, I felt like we were closer as a team."
About the Contributor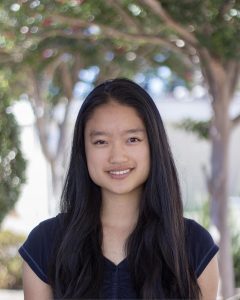 Elaine Chan, Editor-in-Chief
Elaine (12) has been a staff writer on
The Voice
for three years, was previously student life editor, and is currently c0-Editor-in-Chief. She particularly enjoys creating aesthetic layouts on indesign and interviewing people for articles.  In her free time, Elaine enjoys competitive dancing and traveling with her family.