Girls' Varsity Tennis is victorious against Moreau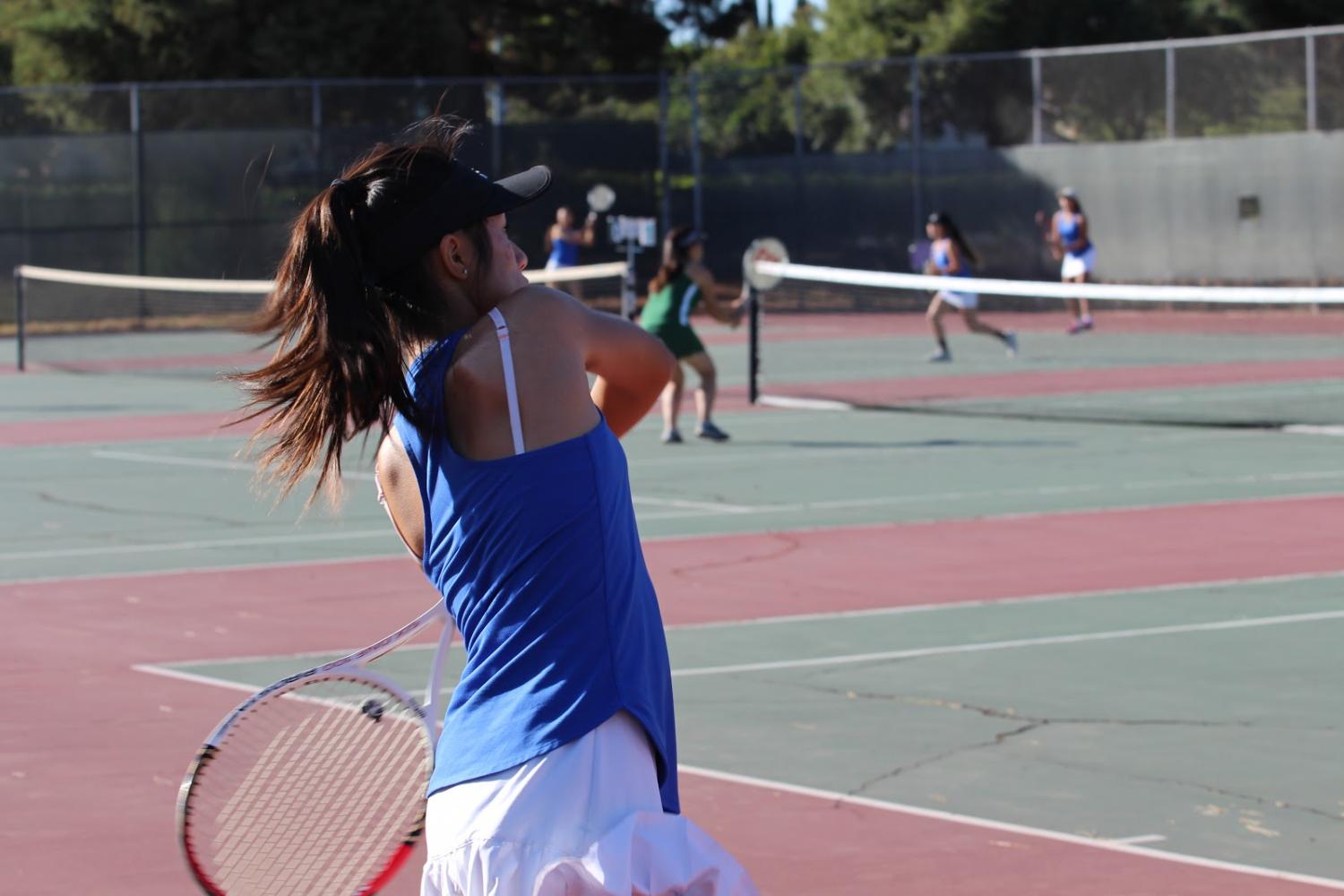 The Irvington Girls' Varsity Tennis team faced off against Moreau in a home game on Oct. 17 and beat them with a score of 6-1. The singles matches pitted different play styles against one another, resulting in dynamic games, while the doubles matches allowed teams to use their unique play styles to complement one another.
The singles games displayed a wide variety of playstyles and personal improvements. Team captain Amanda Tran (12) played against an opponent who was more challenging compared to her previous opponents. Although Tran was able to decrease her amount of double-faults, two consecutive failed serve attempts, she lost the match with scores of 1-6 in both sets. Team captain Katie Grant (12) kept her opponent running across the court with her rapid and forceful forehand shots. Although the rallies were extremely short and periodically disrupted by out-of-bounds shots, Grant's match stretched the longest and she was the last player to leave the court. Through perseverance and technique, Grant won with scores of 6-1 in the first set and 6-3 in the second. Anisha Narsam (10) and her opponent stayed near the back of the court, exchanging long, low shots. Although they were able to sustain medium-lengthed rallies, both Narsam and her opponent had difficulty covering the full court effectively. In the end, Narsam celebrated a thorough victory with scores of 6-0 in both sets.
"I think I moved her [the opponent] around well," said Narsam. "I hit the ball on opposite sides of the court. Next time, I want to attack the ball more instead of just lobbing it back but overall I think I did well."    
The doubles teams used complementing playstyles to dominate the court. Jacqueline Ngo (10) used her agility to protect the front court and sneak in drop shots while Arielle Wilson (11) served as a versatile backcourt support. Ngo's alert playstyle, combined with Wilson's long ranged lobs, effectively secured the court and allowed the team to win with scores of 6-2 in both sets. Doubles partners Jackie Gullion (11) and Shanna Le (10) assumed crouched, open stances for the majority of the game, focusing their attention on the lobbing the ball but failing to defend the full court. Nevertheless, Gullion and Le earned a smashing victory with scores of 6-0 in both sets. Breanna Nguyen (11)  and Namrata Vedagarbha (10) struggled to cover the full court but were able to perform more down-the-line-shots, a vertical shot parallel to the court's sidelines. Nguyen and Vedagarbha skillfully won the game with scores of 6-1 in the first set and 6-0 in the second.  
"I kept the ball in play and away from the volleyer, which meant more points for me," said Nguyen. "I thought that this game was pretty straightforward and easy. The team chemistry was there and there was no miscommunication."
Although some mishaps, such as Moreau's small team size and player absences, prevented Junior Varsity from participating, the Varsity team was able to earn a satisfying win against Moreau. Overall, Irvington's meetup with Moreau was made up of simple matches that provided room for personal growth and reinforced team dynamics.
About the Photographer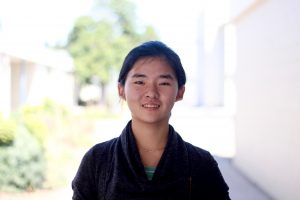 Sabrina Sun, Entertainment Editor
Sabrina S. (11) is the current entertainment editor and has been in The Voice for two years. She was a staff writer and entertainment apprentice in her previous year. She enjoys dreaming about how she would work for The Onion, looking at pictures of food, debating exercise, and being ashamed of hobbies.