Ice 3 Creamery-The Newest Flavor to Fremont's Ice Cream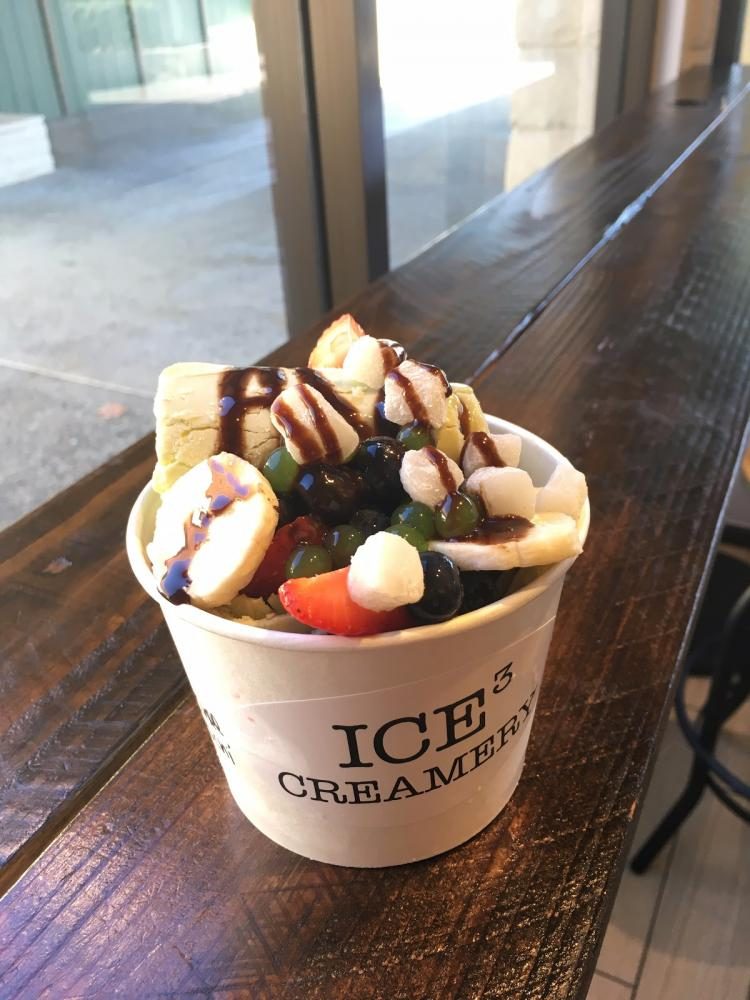 In the twenty first century, ice cream is served fried, smooshed between cookies, flash frozen into dippin dots, and now…scraped into ice cream rolls. The newly opened Ice3 Creamery, tucked in the quiet Lucky plaza on Mission Boulevard, is the first store in Fremont to specialize in these ice cream treats. These delicate dessert creations are formed by "stir-frying" flavored cream with diced fruits over a freezing pan and scraping the hardened concoction into rolls.  
Seeing as the parlor had just recently opened, I wasn't surprised to find the shop almost empty when I arrived at 1:30 in the afternoon. The quaintly decorated pastel walls, light-washed hardwood, cream counters, and adorable accented chalkboard decorations contrasted with the cashier's dispirited demeanor. After pondering the confusing ordering method, I ended up ordering a base of Matcha green-tea ice cream mixed with diced mango. Ice3 did offer unlimited toppings, so I topped my selection with strawberries, blueberries, banana, kiwi, kiwi boba, lychee jelly, and mochi, all of which totalled to $7.45. It took a few tries for the cashier to record my order.
While I watched the servers construct my order, I had mixed feelings. On one hand, I was enthralled watching the magical, yet laborious, process of scraping together perfect rolls of ice cream spirals. On the other hand, I was skeptical of the cashier's inability to efficiently take my order and the server's uncertain hands as they shakily cut my strawberries. While my server painstakingly balanced all my toppings onto the rolls, the other server nervously looked on over my server's progress. My server even allowed some of my toppings to roll off and drop back into the container and onto the ground, which, coupled with the waiter's overall lack of enthusiasm, only deepened my skepticism.
At last, after a fifteen minute wait, I was finally able to taste my ice cream rolls. At the first bite, I was surprised how the sweet chewiness of the mochi complemented the tart pops of the kiwi boba and blueberries perfectly. At the second spoon-full, I was delighted to find that stir frying process allowed the matcha ice cream to be much fluffier and lighter than churned ice cream. In addition, the chunks of mango accented the mellow sweetness of the ice cream with fruity blasts. It took me only a matter of 10 minutes to finish the mountain of ice cream and toppings.
Although the staff lacked enthusiasm and the stir fry ice cream rolls definitely took a lot longer to prepare than expected, the wait and the expense were definitely worth  delicious and copious serving of ice cream and toppings. Ice3 brings a new dimension to enjoying ice cream to Fremont, and will definitely be a well appreciated excursion for those who enjoy mildly-sweet desserts and asian dessert oriented toppings. Hopefully, given more time, more customers will come to enjoy the interesting blends of flavors and textures provided by this parlor.  
About the Contributor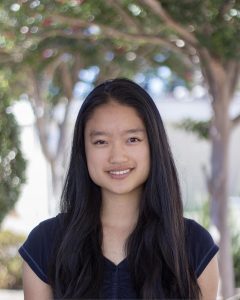 Elaine Chan, Editor-in-Chief
Elaine (12) has been a staff writer on
The Voice
for three years, was previously student life editor, and is currently c0-Editor-in-Chief. She particularly enjoys creating aesthetic layouts on indesign and interviewing people for articles.  In her free time, Elaine enjoys competitive dancing and traveling with her family.