LINK leaders and freshmen hop into Movie Night
By Subaita Rahman | Staff Writer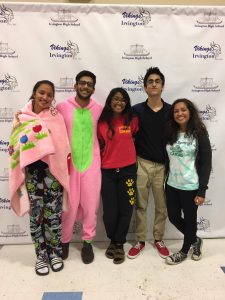 LINK held it's traditional movie night event this year on Friday November 18th in the cafeteria from 6-10 PM. Freshmen bundled up with their blankets and pillows to watch the always entertaining Zootopia, which LINK collectively voted on before, while enjoying free food and bonding with their LINK leaders.
LINK is proving up to their standards at the event each year. Last year they added a photo booth, and this year they added a candy bar as well.
"We were expecting about 150 people, which was the turnout last year, but ended up having around 115 people," said sophomore LINK Commissioner Faye Wang. She noted that fewer people helped them get enough food and space for everyone to enjoy themselves better. "We hope that this event made the freshmen closer with their LINK leaders," said Wand.
Luckily, their hard work seemed to pay off, and everyone enjoyed themselves.
"It was fun to hang out with friends and your LINK kids and just chill," said junior Sruti Nagam. "It was great way to start the break off."
"I really loved the photo booth and hanging out with friends," said freshman Arnav Kamra. "I think it was really successful, since a lot of people were there."
However, LINK isn't quite finished with making their freshmen's first year of high school enjoyable. Although this movie night was entertaining for all, there are a few things LINK is attempting to improve for next time.
"There wasn't enough freshman-LINK leader interaction," said junior Sarvesh Nagwekar, "because watching a movie is a passive activity and people stuck to their individual groups, so there wasn't a lot of initiative on either side to bond with each other."
To help deal with this issue, LINK has also planned a fundraiser for a better bonding opportunity, a hot cocoa or cookie decorating event, and improved, specialized advisory visits similar to Homecoming Week.
"We're super grateful for all the people who came out and we hope they had a good time," said Wang. "Hopefully this event got the freshmen more excited for what is to come in the future for LINK."