Irvington's Black Box falling into disrepair
In recent years, the irresponsible use and storage practices of other undisclosed departments and classes in the Black Box has left the gallery unable to be properly used by the Visual and Performing Arts Department. The Black Box is a room adjacent to the dance studio that was granted to the Arts Department six years ago to be used as a gallery. In order to achieve the aesthetic of a real gallery, well over ten thousand dollars had been invested in slathering the room's walls and installing display boxes. The Arts Department displays students' work from time to time. However, because of the room's current condition, the Black Box has been unusable as as a gallery for well over half a year.  
"There is a gaping hole with water stains on the ceiling, scuffed up walls, the floor hasn't been swept in over a year, and 90 percent of the room is filled with other classes' equipment," Visual Arts Department Head and sculpting teacher Tully Mintey said. "Why would you want to have an art show there?"
Mintey explains that the Black Box's poor condition is a result of the other undisclosed departments' obliviousness in the past years. For example, other departments have been telling their students to go through the office to ask for permission to use the Black Box instead of checking in with the Arts Department. In addition, the department has had to pay for the damages and the scrubbing of the walls.  
Luckily, measures have been taken to alleviate this problem. Mintey sees reminding administration of this problem as his responsibility, and Principal Barrious  has agreed to pay for the most recent painting job.
"We say we are an Arts Magnet school, yet we really don't prioritize the arts departments when it comes to funding," Mintey said, "I mean the district says they won't fix roofs until there's a gaping hole in it, and there's a gaping hole in it now I guess."
About the Writer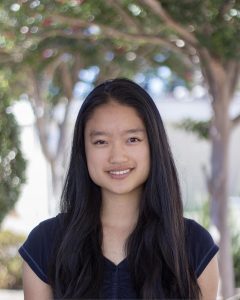 Elaine Chan, Editor-in-Chief
Elaine (12) has been a staff writer on
The Voice
for three years, was previously student life editor, and is currently c0-Editor-in-Chief. She particularly enjoys creating aesthetic layouts on indesign and interviewing people for articles.  In her free time, Elaine enjoys competitive dancing and traveling with her family.