San Francisco Women's March on Washington draws huge crowds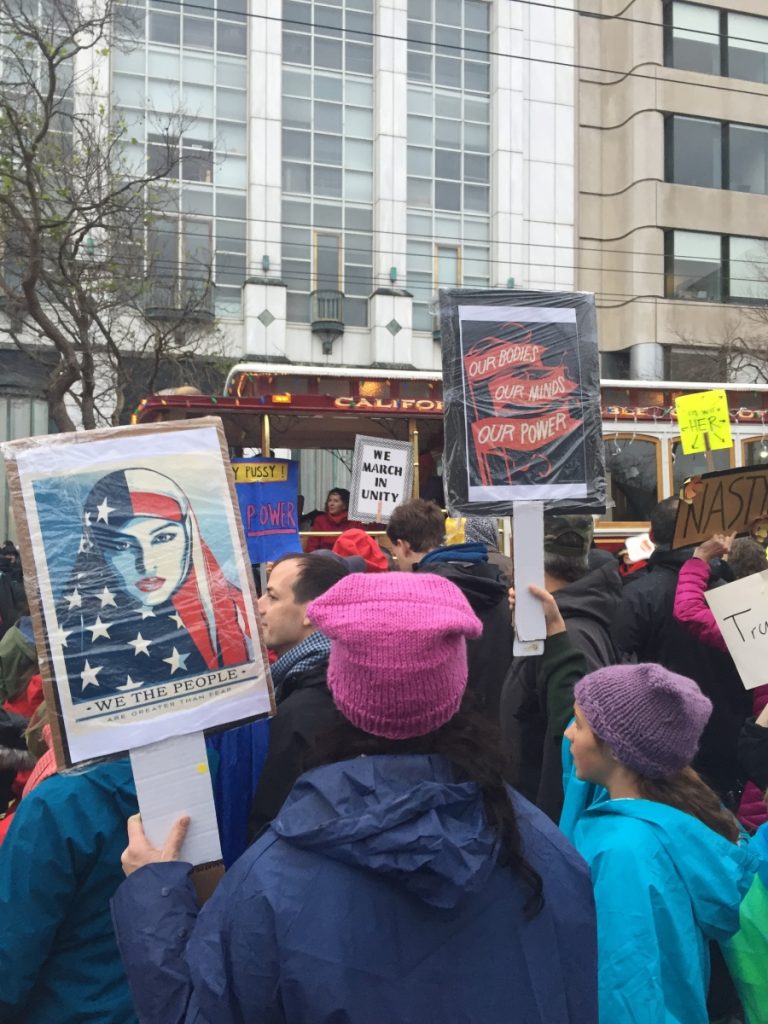 On Saturday, Jan. 21, the day after the inauguration of President Trump, San Francisco drew thousands of men and women from every generation, marching for two vastly different causes. While a black and yellow group of 50,000 anti-abortion demonstrators converged outside San Francisco's City Hall for the 13th annual Walk of Life in the morning, an unusually pink group of 100,000 participated in the Women's March on Washington in the afternoon and evening.
Men and women, wearing cat-eared "pussyhats," in an allusion to Mr. Trump's lewd comments in the infamous 2005 recording, and carrying homemade signs, were joined by crowds in cities across America in what crowd scientists estimate to be the largest demonstration in American history. According to political scientists Erica Chenoweth at the University of Denver and Jeremy Pressman at the University of Connecticut, at least 3.3 million Americans took to the streets in major cities like Washington D.C., Los Angeles, and New York City, and in small cities like Fargo, North Dakota and Tuscon, Arizona. While the march in Washington was the largest, it was just one of the 673 staged around the world, from Tokyo, Japan to Frankfurt, Germany.
Sophomore Corinne Hansel marched Saturday evening with her mother, Amy Hansel, a 47-year-old Fremont substitute teacher, and her father, a 48-year-old Assistant Director of Finance at City of San Jose. The Women's March was her first protest. She observed that people, though peaceable, were full of passion.
"There were all different races and genders and ages of people there," she said, "and I think that is what made it so cool for me, and they believe so strongly that this is not the man who should be leading our country and that our rights are important and need to be protected."
Organizers hoped that the march, which began as a Facebook post just after the election, could represent the start of a long campaign to unify America on issues including reproductive rights, racial justice, climate change, and immigrant rights. Mr. Trump's campaign was colored by allegations of sexual assault, discriminatory comments, and scientifically inaccurate statements.
However, some demonstrators saw the march as a way to protest. AP Government teacher and We the People advisor Mrs. Jorgensen attended the San Francisco March and described the march as an demonstration of opposition.
"As a person, I think it's important to defend the rights of women in the United States and oppose the rhetoric that Donald Trump has used," she said. "As an educator, it was important to go to the Women's March to oppose Trump's nominee for the secretary of education. As a government teacher, I think it's important to set a good example, not only to my students but to other faculty staff and community members and to demonstrate in a peaceful way that upholds the Constitution. Our obligation as good citizens is to the higher law, not to laws made by men."
Though the sky was beginning already beginning to darken when the march began, and light rain was falling, the atmosphere was charged throughout the hours-long march. Periodic cheers rolled throughout the crowd, and crowds chanted, "Hey-ho, Donald Trump has got to go," "My neck, my back, this pussy will fight back," and "Love, not hate, makes America great."
Senior Shelly Pevchin attended the march by herself and later ran into World History teacher Daniel Vucurevich and his fiancée, Engineering teacher Kristin Berbawy, and English teacher Matthew Phillips.
"This wasn't my first march. I've been going to protests and demonstrations since I was eight," Pevchin said, who wore a black shirt that said "Fight back: Unlearn sexism, end rape culture, slay the patriarchy" and carried a cardboard sign that said "My body, my choice." "I went because I want to show solidarity with everyone that this election is affecting, especially women of color and the LGBT community. This march sent a massive message to the current administration just how many women and allies were going to push back on harmful legislation. I hope that subsequent, hopefully even more inclusive, demonstrations keep happening throughout the next four years to make it clear that we're not backing down."
About the Writer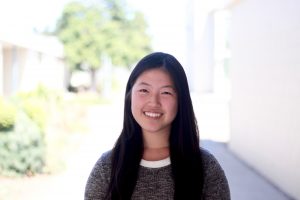 Caitlin Chen, Editor-in-Chief
Caitlin (12) is editor-in-chief and opinions editor of The Irvington Voice. She was opinions editor in her junior year, and she was a staff writer and news apprentice during her sophomore year. This is her third and last year on the staff. Being in journalism hasn't fully crushed her spirit, so she wants to pursue journalism as a career when she graduates from college. She is expecting to make very little money.

She likes watching The Office on repeat and wasting a lot of time on Instagram. She also likes taking naps and baking. If you wish to make brownies, she highly suggests this recipe: http://allrecipes.com/recipe/143667/brookes-best-bombshell-brownies/