Boys' basketball fights resiliently against Moreau
On Jan. 27, Irvington's boys basketball team played an aggressive, hard-fought game against the Moreau Mariners. Though the grueling game ended with a 55-74 loss, the Vikings didn't let up throughout the four quarters, aggressively attacking the rim and playing tight defense.
Despite losing the tip off, the team started off strong, making up for their smaller team with speed and aggression. The first quarter ended level at 15-15, bringing the crowd to their feet as they cheered alongside the Irvington JV cheerleaders. The crowd added to the excitement of the game, as their energy was contagious and mirrored the energy of the boys on the court.
"Our boys were very intense. They played very intense and very strong. There are things that we can still build on, but they boys were very focused tonight. We need to get more aggressive. We can't sit and wait for things to happen — we have to jump on it. It was our game," head coach Ron Littleton said.
The boys kept up their intensity through the third quarter despite the score being 27-33 , playing tough defense and scoring consistently on offense. They were able to score many points from second-chance baskets, out-jumping and out-boxing the Mariners and putting back missed outside shots.
"[We can improve by] keeping a level head," junior Andrew Yamasaki said. "Because we were so close in the game, the crowd got into the game and it got into our heads with the crowd cheering so loud. We need to remain focused."
The game ended 55-74, a 19 point loss to one of the top schools in the state. The Vikings consistently put their energy into the game, running after loose balls and playing aggressive on-ball defense that led to intercepted passes and scoring opportunities.  Although Moreau's on-court behavior resulted in a few technical fouls, the Vikings played a clean game and refrained from retaliating, instead continuing their aggressive speed and attacks.
"We didn't let them beat us up on our own court. We gave them a fight that they didn't expect. They didn't expect us to come and push them, they expected to push us," captain Sahil Bobba (12) said. "They thought we'd back up and we didn't. That's why we were so close the whole game."
About the Contributor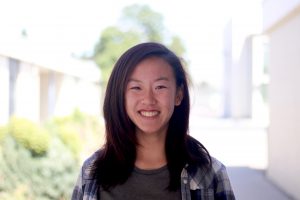 Zarah Zhao, Staff Writer
Zarah (11) is a staff writer and features apprentice for the Irvington Voice. This is her first year on staff. She loves sleeping, dogs, and fries, and also enjoys taking photos and adventuring in her free time. Her favorite places include her bed and SF. Her favorite part of the journalism process is interviewing new people for articles.