Irvington Conservatory Theatre performs at the 2017 Lenaea Theatre Festival
The Irvington Conservatory Theatre spent the weekend of Feb. 10 to 12 at the 62nd Lenaea Theatre Festival, located in Folsom Lake College, where they competed against a bevy of schools across California in all four competitive categories: Monologue, Duo Scene, Musical Theatre, and One Act. The 2017 Lenaea Theatre Festival was an opportunity for aspiring high-school actors and singers to showcase their talents. The event included preliminary rounds, which were held throughout the festival, as well as constructive workshop sessions that led up to the ceremony at 4 p.m. on Feb. 12. ICT entered the competition with three monologues, one duo scene, three musical theatre performances, and a one-act performance, but most of Irvington's entries ultimately did not place.
"2017 wasn't the greatest year for us," senior Simran Sen said. "We've usually always left with silver or gold medals in every category. But we did come in with a lot of energy and actually did really well. The judges loved all of our performances."
For the One Act entry, eleven members of ICT performed an energetic, humorous non-play titled "15 Reasons Not To Be In A Play." Irvington alumni and ICT Assistant Director Nick Saud directed the segment, in which actors portrayed petulant elementary school students  ironically ranting about the horrors of stress-inducing, yet addicting, plays.
For the Duo Scenes entry, seniors Sydney Bush, who portrayed Pete, and Simran Sen, who portrayed Josie, began rehearsing in November in order to perform a five-and-a-half-minute rendition of Lindsay Price's "Somewhere, Nowhere," a comedic character study of two to-be high school graduates and their changing attitudes towards their hometown.
While IHS did not receive as many awards compared to previous years, one particular entry stood out. Performing Arts Club (PAC) sophomore representative Mehaa Mekala's comedic Musical Theatre performance of "I Am Playing Me" from Broadway musical "[title of show]," won Gold, earning the highest score out of more than three hundred other competitors.
"Honestly, this song wasn't my first pick, but it was a good option,"  Mekala said. "I can relate to this song, and the way it talks about wanting more and believing that you can be so big. It is harder to relate to a comedic song but once I understood it's purpose, I knew it was right."
After choosing her song in November and auditioning in December, Mekala worked with Drama teacher Mr. Ballin, Irvington alumni and ICT Assistant Director Nick Saud, and her vocal instructor Alexandra Mena to perfect both the visual and vocal aspects of her performance.
"I was very nervous because I was the youngest of at least 10 or 12 other girls who auditioned," Mekala said. "I got in though, which was thrilling because Irvington is known for having great singers."
At the closing ceremony, winners of each category performed encores, or command performances, of their acts.
"There were a thousand people at the closing ceremony, which is almost six times as many people Valhalla seats, " Mekala said. " It was crazy! I was so nervous because I went last, which I later found out was a good thing because it meant I had the highest score. But at the time, it was like each person was going out there to be slaughtered but was coming back with smiles."
Mekala stressed the importance of enjoying the experience.
"Our performing arts program loves Lenaea and I finally got to see why," Mekala said. "The atmosphere and workshops were spectacular. Win or no win, I absolutely adored it."
About the Writer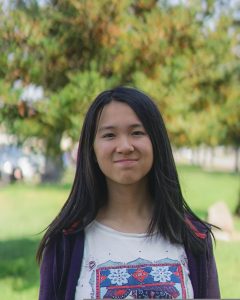 Fiona Zhao, Student Life Editor
Fiona Zhao (12) is the student life editor of Vol. 27 of The Voice, and fittingly likes warm and fuzzy stuff, as the bubble of positivity she totally is. She was a copy editor for Vol. 26. Being part of the paper for three years hasn't wrecked her, so yay? Outside of writing for The Voice, she reads and writes meta for fandom (so why is that much harder when she does it for school?) in her nonexistent free time.