Vikings make music at All State Honor Band 2017
Ten of Irvington's top musicians travelled down to San José to participate in the California All-State Music Education Conference (CASMEC), more commonly known as the All-State Honor Band, on Feb. 16 to Feb.19. The convention occurs annually and hosts youth choirs, orchestras, and bands, which students audition to enter, along with guest performances from ensembles all over California. All band teachers in California are allowed to send in only 20 recorded student auditions, which music teachers, instructors, and performers listen to over a period of two months. Students are stratified into bands based on their audition recordings, a change from last year's system where students would audition upon arrival to determine placement. The groups were Wind Symphony, Symphonic Band, Concert Band, String Orchestra, Symphony Orchestra, Jazz Ensembles, and two choral ensembles.
Dr. Eugene Corporon from the University of North Texas conducted Wind Symphony. Their concert set was comprised of a few unconventional tunes, like "(Redacted)" by John Mackey, and closed with a popular Shostakovich piece. Flutist junior Claire Cheng was the only Irvington member in Wind Symphony this year, and urges more people from Irvington to audition.
"The experience is really worth it, and it's cool because after some time you start seeing the same people at different conferences, and it's like an extended family," Cheng said.
Dr. Peter Boonshaft from Hofstra University conducted Symphonic Band, which played a set of four contrasting pieces. One of their pieces, "Rest" by Frank Ticheli, was actually a repertoire piece from this year's award-winning Irvington Wind Ensemble. Percussionist junior Clyde Li and alto saxophonist senior Justin Pi represented Irvington in the Symphonic Band.
"Dr. Boonshaft is one of the most inspirational people I've ever met," Pi said. "He was so passionate about music and life and he gave us a lot to think about. Even though he made us rehearse a lot, without many breaks, the end result was worth it because our band achieved in two days what would ordinarily take months."
Sophomores and clarinetists Jack Chen, Mary Tang, and Katie Lee, sophomore and saxophonist Sean Cheah, and senior and clarinetist Cathy Liu were all members of All-State's Concert Band, which was conducted by Captain Michelle Rakers, from the U.S. Marine Corp. Band. Their set consisted of mostly Marine Band repertoire, including a Sousa march, "Corcoran Cadets."
In addition to these ensembles, sophomore trumpet player Jeffrey Chiu was in Symphony Orchestra, and freshman violinist Sophia Shih was in String Orchestra. A few of the Irvington musicians have been members of All-State for several years, and for some this year is their last. Cathy Liu hopes future generations will continue to exceed the standard of excellence she has experienced.  
"This year was my sixth year, which felt just right because it was still exciting but no longer as stressful, and I got to just have fun and really enjoy the experience," Liu said. "Next year I hope that the conference is more organized with registrations and check-ins, so that there's less confusion. I also hope that they will make the rehearsals later in the day because we were all very sleep-deprived from early rehearsals."
Irvington was well represented during CASMEC's two day span, which was packed with performances that featured amazing music, despite the fact that the musicians had been brought together in an extremely short amount of time. Irvington CASMEC attendees showcased their talent, and experienced and contributed great things to the convention.
About the Writer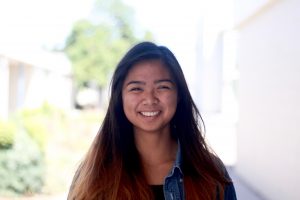 Breanna de Vera, Staff Writer
Breanna (12) is a staff writer. She enjoys writing short fiction and biographical work when not writing for The Voice. She drinks a lot of tea and likes cats, but will not be a cat lady when she grows up. She also has a penchant for avocados and a particular bear known on Instagram as @kevsleepybear (follow him!) This is her first year on the staff.