Homecoming Rally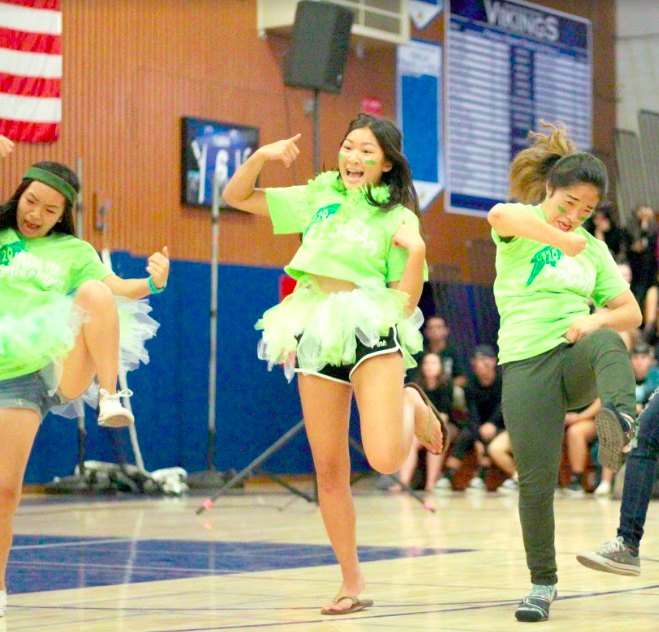 The long-awaited Homecoming Rally marked the end of the spirit week festivities for Homecoming Week. This rally's line up included a variety of acts, and it was apparent that the audience was entertained based on the crowd's applause after each act's performance.
Chamber Choir, Irvington's advanced mixed choir group, started off the event with the an acappella national anthem. The singer's had practiced twice a week prior to the rally, and from their performance, it was evident that they were well seasoned.
Math teacher and taekwondo trickster Mr. Ip and his team, which consisted of both students from IHS and friends, performed bold flip demonstrations. What began as an innocent date, in their act, soon turned into a showdown of flips and tricks. At every surprising split, spirited kick, and daring flip, the audience positively reacted in unanimous shock and cheers. For the grand finale, Mr. Ip held out a piece of wood above Franklin Sa's head who then proceeded to do a backflip, breaking the wood into two separate pieces.
Perhaps the most memorable moment of the whole rally was when the entire school displayed their support for a fellow student who's battling brain cancer, Ronil Mehta. The whole school showed their support and affection by giving Ronil a standing ovation and cheering for him to no end.
Rally director, Lauren Sage, agreed that the homecoming rally was a great way to cap off Homecoming week.
"Overall, I think [the rally] was a success," said Lauren. "This time Andrew and I didn't disagree on anything. We were on the same page on what acts we wanted."
Rally commissioner Andrew Yamasaki also agreed that the rally was a good start for the school year.
"I think I did the best I could with the amount of energy I had left in the tank," said Andrew. "The crowd seemed pretty engaged for the most part, so that was pretty encouraging too."
About the Contributors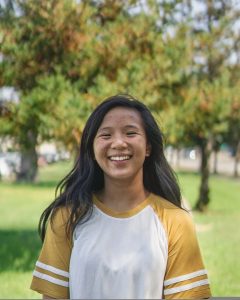 Emily Joe, Humor Editor
Emily Joe (12) is the humor editor for The Voice and is known for cracking horrible jokes and bursting into cringey dance moves during class. She joined journalism because she enjoys reporting and loves shouting at people.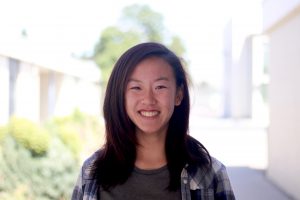 Zarah Zhao, Staff Writer
Zarah (11) is a staff writer and features apprentice for the Irvington Voice. This is her first year on staff. She loves sleeping, dogs, and fries, and also enjoys taking photos and adventuring in her free time. Her favorite places include her bed and SF. Her favorite part of the journalism process is interviewing new people for articles.