Upcoming Events In Fremont This Fall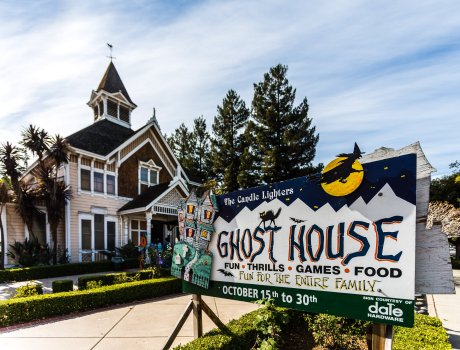 Tyme for Tea &Co.
Tyme for Tea & Co. in Niles plans "A Pirates Life for Me Tea" on October 28-29. The event will have its own pirate themed menu, consisting of cozy fall drinks and uniquely named sandwiches and desserts. The event, at $40 per person, promises lots of delicious food and a fun time, making the price definitely worth it. Tyme for Tea & Co. is popular for their decorating, and will undoubtedly provide a fun and fitting atmosphere for Halloween. Guests are encouraged to dress for the occasion in their breeches, eye-patches and peg legs.
The Candle Lighters
The Candle Lighters, a tri-city-based nonprofit group, have announced their 49th annual Ghost House at The Hub shopping center to take place from October 14 until October 30. Each year, they host a small carnival-like event with a haunted house. There are also a variety of old-fashioned booths dedicated to classic carnival games, colorful face paint, and traditional Halloween food. The event features a booth that makes and sells tasty caramel apples, an old time favorite for recurring visitors. The affordably priced Ghost House is fun for for all ages, making a fun night out with family or with friends.
Niles Altar Walk
On Saturday, November 4, Niles will host their sixth annual "Altar Walk". The town is welcome to gather in the Niles Town Plaza, from 2 to 9 P.M., to celebrate Dia de Los Muertos by honoring and remembering passed loved ones. The community will come together to create altars, dress up in traditional Day of the Dead Costumes, and share food, music, and stories. A closing ceremony is planned to take place at 7 P.M. where  visitors will send prayers to their deceased loved ones. The entire event is free and open to all.
Perry Farms Pumpkin Patch
Perry Farms in Fremont will open their Pumpkin Patch for the month of October from 12pm-7pm from Monday through Friday and from 9am to 7pm on Saturdays and Sundays. The pumpkin patch has a maze for kids, a hay pyramid, a picnic area, plenty of nooks for cute pictures and of course, the opportunity to search for the perfect pumpkin. General admission is $1 and prices for pumpkins are dependent upon size. This pumpkin patch is perfect for getting into the fall groove and spending time with friends and family. It also makes for a great date and some cute Instagram worthy shots.