Repeal of DACA hits close to home
President Donald Trump's executive order to repeal DACA on September 5 2017 has had extreme ramifications on the future of undocumented youth in America. Administration within the district and Irvington itself is working to educate affected students of their rights in light of this repeal.
DACA, Deferred Action for Childhood Arrivals program, was enacted by Barack Obama in 2012 as an effort to allow law-abiding, undocumented youth the ability to get a job and a college education without the constant fear of being deported. The eligibility requirements for the program were simple: individuals must have been younger than 16 when they immigrated to the United States, must have a high school diploma or attend school, and have no criminal record. However, as a result of the new executive order, no new applications for DACA will be accepted and the current 800,000 young undocumented people who are protected by DACA will be shielded from deportation until October of 2019.
While majority of those covered under DACA are currently in college, there are students who have families and friends whose future in this country have now become unknown.
"As a district, we have had meetings discussing how to best support students who are affected by DACA. We refer students to local resources within the district and within Fremont itself," said counselor Leticia Velazco. "We do whatever we can to help students understand that this is their school and they have every right to get an education."
Counselor Velazco goes on to elaborate further, adding that all students' private information is protected under FERPA, the Family Education Rights and Privacy Act.
"FERPA prevent schools and districts from giving private student information to government agencies as that is a violation of students' rights," said Velazco. "It is important that students and families know their rights as this information puts them more at ease."
This year, Fremont Unified School District implemented several policies to help address the situation.
"Last spring, the Board of Trustees passed a resolution that supports our immigrant students and families," said Director of Federal and State Programs, Dr. Christie Rocha, "In Federal and State Programs we have two staff members whose roles and responsibilities are to support staff, administrators and parents regarding immigration."
They have additionally conducted multiple workshops to share facts about the laws and methods in which FUSD will support our students and families. They also notify our immigrant parents of their legal rights in regards to DACA and other immigration policies.
Irvington and other schools around the district are not the only ones to respond to DACA's end. Other educational institutions, including the University of California, have publicly criticized Trump's order. California's State Superintendent of Education, Tom Torlakson, released a statement earlier in September promising solidarity with all students who were being affected.
In a press release statement, Torlakson said, "Our country made an honest deal with these students—study hard, earn your degree, and you will get a fair chance to compete for college. We should keep deals, not break them. We should support dreams, not destroy them."
Counselor Velazco has a similar message for students at Irvington and within FUSD itself who may be facing this issue.
"We want to reassure students that Irvington is their home and school. They have every right to pursue an education and we welcome them. We will do whatever we can to protect their right," said Counselor Velazco.
About the Contributor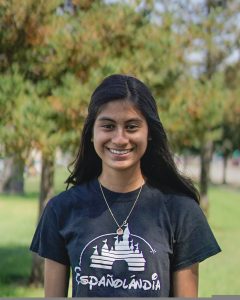 Isha Sanghvi, Editor-in-Chief
Isha (12) is the news editor and one of two, editor-in-chiefs for The Voice. Not only does she enjoy using her voice for expression through journalism, debate, and creative writing, she also loves destressing to rap and Broadway music! A human of many contradictions, Isha can either be found spitting fire bars, or trying to uncover the latest front page story.