Local Man Believes Controversial Opinion to be a Good Thing
Every morning, Irvington students receive neon green pamphlets as they enter the campus, passed out by senior X. He shoves them in the faces of students, preaching the values of free thought.
So what are these pamphlets even about?
When we asked him, he said, "The students at this school have become vapid and unoriginal as time has passed. It's made me realize that someone has to bring back good old-fashioned opinions to the population. Life is no fun when you're surrounded by drones."
The pamphlet itself is bright green, with brick red lettering that says "Grow an Opinion! Don't Just be a Part of the Mindless Masses!" X's face is on the poster, a garish smile on his face.
After he finishes passing out the fliers, he goes to his first period class, Government, where he spends the entire class voicing the opposite opinion of the general consensus of the class, causing the other students to be forced by Mr. Cattingly into debates about the topic at hand.
He says it's to make "those unoriginal schmucks think."
When asked about this, the other students from his class, A and B, said, "Unoriginal schmucks? Us? Well, it's senior year! We shouldn't have to think!"
X's friends, Y and Z, have given up on snapping their friend out of this obsession with contrarianism, Z saying, "I dunno man, he's always been a radical, you know. When we were little, and X's mom wouldn't let him eat a cake because it had kiwi, and he's allergic to kiwi, he just ate it anyway. And later, when he was at the hospital, I was still so proud to be his friend."
Y had different words to describe his friend. "X has always just been an annoying little dude. Did anyone ever tell you about the time he ate the bungee jumped with a broken cord, even though everyone told him not to? He passed it off as trying to be a rebel, but really, he just wanted to annoy and scare everyone. Now that he's older, he uses thought processes as a method of annoying even more people. It's brilliant, really."
Scam or not, X's efforts have made people think about how conformity of thought can really be killing their brain cells.
About the Writer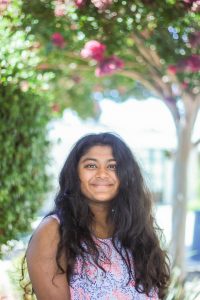 Shradha Krishnamurthy, Entertainment editor
Shradha (12) is an Entertainment Editor, in her third year at the voice. In her spare time, she loves watching movies (but is awful at staying quiet through them) and drinking copious amounts of sweetened beverages. She hopes to enjoy her last year of high school, and help to put out a great volume of the voice.