A Boy's Discovery of the Importance of Family: A Review of Coco
Coco, the newest animated film produced by Pixar and released by Disney on Nov. 22, is making waves in movie theatres, already grossing 250 million in international ticket sales.  Although the movie is set in Mexico and showcases a culture many are unfamiliar with, the movie's unique storyline and intricate animation made it an enjoyable experience.
The storyline begins in the small Mexican village prior to the Day of the Dead festivities where the young 12-year-old Miguel, an aspiring musician, hopes to perform in the village talent show.  Due to some events in his family history, his family despises music, and Miguel wants to earn the support of his family for his passion for music by performing in the show. After his grandmother smashes his guitar, Miguel attempts to steal a guitar from the memorial of one of his idol musicians.  However, upon breaking into the memorial, he is swept into the land of the dead. Throughout the rest of the film, the audience follows Miguel in his journey to return back to the land of the living before sunrise.
In light of the current political climate, this movie proved to be a nice bridge between cultures, ethnicities, and nationalities.  People of all cultures could relate to the festivities and the sense of family conveyed by this movie. Certain aspects of the film seemed more culturally appropriate than the traditional Disney films. For example, the Day of the Dead celebrations portrayed in the film included the music, face painting, delicacies, and the symbolic marigolds specific to the actual cultural celebrations.  In addition, the central theme of valuing family above everything was especially fitting for the holiday season. Also, unlike traditional Disney movies, Coco included some major plot twist that made the story all the more engaging.  As far as graphic design and animation, it was clear that the producers out-did themselves in creating elaborate and detailed backdrops in addition to the focusses of the scenes.  
Although Coco excelled on many levels, several aspects such as exaggeration of the villain character and the predictable happy ending fell short of my expectations.                      
I would definitely recommend this film as a family movie for the holidays. This film's intended audience is younger children, given that the entire film is only two hours.  However, the producers' cultural detailed understanding for the Mexican culture and the unique plotline could clearly be appreciated by audiences of all ages.
Rating ⅘ stars
About the Contributor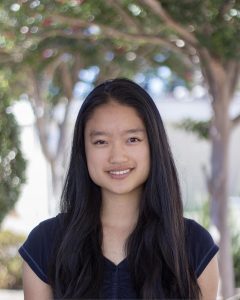 Elaine Chan, Editor-in-Chief
Elaine (12) has been a staff writer on
The Voice
for three years, was previously student life editor, and is currently c0-Editor-in-Chief. She particularly enjoys creating aesthetic layouts on indesign and interviewing people for articles.  In her free time, Elaine enjoys competitive dancing and traveling with her family.