Irvington Cheer excels at regional competitions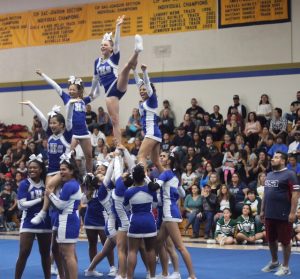 On Dec. 2, Irvington Cheerleaders' first ever group stunt team placed first and the competition team placed third at their second regional competition in James Logan High School. The competition team placed second at their first regional competition at Merrill West High School in Tracy on Nov. 11.
The team was notified late in the season that they would be competing in the group stunt competition, but Coach Megan Ellefson knew the team would be excited for this opportunity.
"[The group stunt team] learned a minute routine that is made of
all stunt and tumbling choreography," Ellefson said. "Since group stunt competes in a higher level category, which focuses on technique and execution, it took a lot of practice. Our girls stood out from other teams because of their flexibility and basket toss skills and height. "
Practice was key for the group stunt team, especially since they were rushed get the routine together before the competition. Captain Kelly Nhan (12) made sure to get the team a lot of practice.
"We learned new stunting, but mostly skills we already performed at games and rallies so it wasn't as hard to incorporate stunts in the routine," Nhan said. "We didn't have that much time to get it together, so during competition week, we practiced for an hour before our actual team practice."
Aside from the group stunt team, the cheerleaders' normal competition team also competed at James Logan and placed third, to the disappointment of Nhan.
"We did not do as well as we hoped due to stunting mishaps and we also got a penalty for an illegal stunt," Nhan said.
The cheerleaders have two more regional competitions remaining, in Sacramento and Deer Valley High School in Antioch. Towards the end of February, the team will head to Anaheim for Nationals.
"They are confident and now more than ever are ready to put in the work for it," Ellefson said. "Our goal from the beginning is to be National Finalists three years in a row, a first for not only Irvington, but for any Fremont team."